Honestly, to heck with who won what award. Let's get to the good stuff, like who wore what, who wore it well and who looked like hammered crap.
NICOLE KIDMAN
: Love her or hate her, you have to give her credit for taking risks and always commanding the red carpet. She dared to wear red when no one else did - - and looked fabulous doing it. I'm not sure about the big Christmas bow on her right shoulder, but otherwise, she was a
hit
.
NAOMI WATTS
: I may be in the minority but I think this is a lovely dress. The buttery yellow color compliments her light complexion and hair and she looks like a golden age movie star. Plus, she's allegedly, discreetly preggo and this dress keeps you guessing.
Hit
.
QUEEN LATIFAH
: True, she is head to toe in black and black can be boring, but Latifah still looks lovely and isn't trying to squeeze herself into a size 4 dress.
Hit
.
MERYL STREEP
: She may be one of the greatest actresses of our generation, but what the hell is she wearing? She was nominated for her turn as a fashion editor and she shows up in this creation? Meryl, please, hire a stylist pronto!
Miss
.
KIRSTEN DUNST
: In the past, Kirsten has worn vintage well. But she failed horribly here. A grandma top and maribou-negligee-like bottom?
Total mishmash of a mess that's a major miss
.
KELLY PRESTON
: JT did tell her they were going to the Academy Awards, right? Then why on earth is she dressed like she's going on a safari with Mrs. Thurston Howell III and Ginger? Kel, please, no animal prints at the Academy Awards.
Big miss
.
JODIE FOSTER
: Beautiful periwinkle color and a truly elegant dress. For whatever reason, Jodie doesn't look truly comfortable in it, which distracts from the beauty of the dress.
Almost a hit
.
JADA PINKETT-SMITH
: Who told her breastplates were cutting edge fashion for the Oscars? The same person who told her that she should dress like the Oscar statuette? No, thank you, Ms. Pinkett-Smith, I'm not buying.
Miss
.
ELISABETH SHUE
: Anyone see that episode of
Sex and the City
where Charlotte met up with her college sorority sisteres after marrying Trey and they were all super snooty and wearing cocktail dresses? Well, Elisabeth Shue looks like she is on her way to a casting call for recasting of those parts when she decided to pop in to the Oscars. Much too underdressed for the Oscars and much too, well, old. She can't be much past 40 - - and the assy hair?
A sad miss
.
CELINE DION
: I actually like the overall style of this dress, along with the diamond brooch on her hip. Stylish and very hip for the hip. But that huge bangle on her right wrist is distracting and the olive color of this dress? Yuck. Wasn't this color
de rigeur
for kitchen appliances back in the 70s?
On the fence.
ABIGAIL BRESLIN
: How could you not love this outfit? Sure, it's very, very pink and it's girlish and she does resemble an overdone birthday cake, but she's a little girl and she's wearing a fairy princess outfit (along with a matching clutch). Her best accessory? The honest, lovely and unaffected smile.
Hit.
ANNE HATHOWAY
: When bad clothes happen to good people. Seriously. She looks as though she's wearing a lacy tablecloth and the big black bow is holding it up. Combine that with the severely pulled back hair and you have a twenty-something actress who's looking more like Joan Rivers' counterpart.
Miss.
EMILY BLUNT
: A very simple sheath gown in a standout blue that should be a runaway hit. And yet, something is off. Maybe it's the lack of bling around her neckline, or maybe it's the dour expression but it puts me
on the fence
.
JENNIFER HUDSON
: I think the dress suits her perfectly. Brown might be a bit unusual for the Oscars (although Maggie Gyllenhall and Sandra Bullock have done it) but the Jetsons-inspired jacket throws me a bit. Not much of a dream, girl. The jacket alone puts me
on the fence
.
PORTIA DE ROSSI
: Absolutely lovely. The navy blue color is wonderful with her complexion, the dress is understated and elegant, with a gorgeous back. Portia simply shines and does Ellen proud.
Big hit
.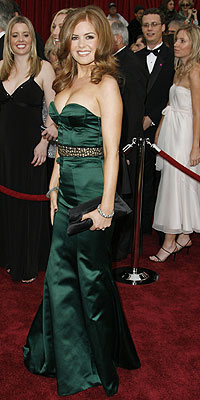 ISLA FISHER
: The emerald green color is stunning with Isla's red hair and she looks fabulous. The bodice looks like it might be a bit small, but otherwise a
hit
.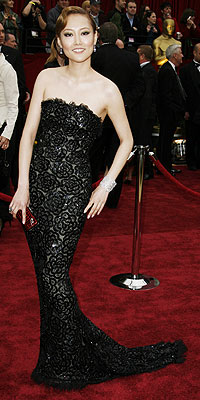 RINKO KIKUCHI
: At first glance, my initial impression was Kiss of the Spider Lady. But the dress grows on me and her simple hair and understated makeup make the outfit shine. She could have used a necklace, but otherwise, a
hit
.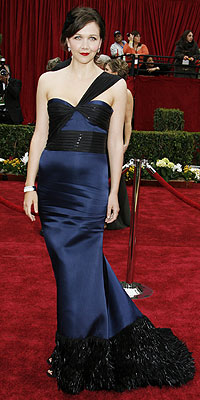 MAGGIE GYLLENHALL
: Black and blue isn't your normal everyday combo, but Maggie rocks this look. Glorious perfection from the glamorous showstopping dress to her hair and makeup, Maggie shoots and scores.
Hit
.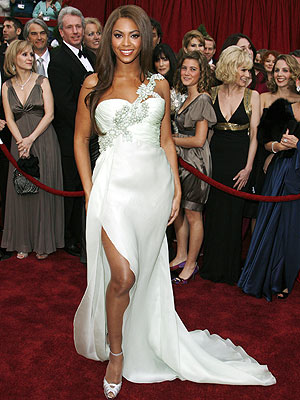 BEYONCE
: Vast, vast improvement over her Golden Globes disaster. The bodice is lovely, the mint green color is lovely, but is Eddie Murphy hiding out around her hips until Best Supporting Actor is announced? I know she's a healthy, well-built woman, but the way this dress falls makes her look far, far hippier than she probably is.
On the fence
.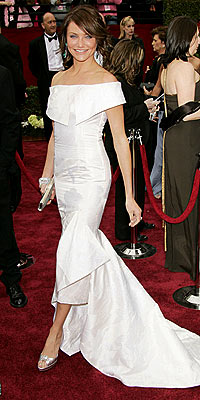 CAMERON DIAZ
: I'm no fan so it pains me to say that her hair and makeup actually look very pretty. Then we get below the neck. What the hell happened? Did Andie Walsh from Pretty in Pink make Cam's Oscar dress? What is up with the different hem lengths and the weird, boxy 80s style bodice? She probably makes more money for waking up one morning than I do all year so why can this girl never get it quite right?
Miss
.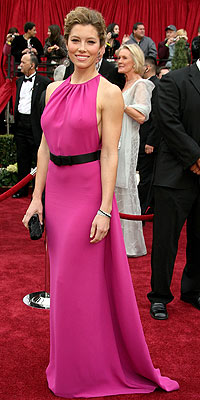 JESSICA BIEL
: The Grecian-style of this halter dress is lovely and I think would have been absolutely stunning had it been in a softer color, but fuschia? I'm not feeling it. And why must someone always go for the Barbie look every year? I'm also not feeling the full-on headlights on the red carpet (I think pasties are in order next time) and the full-on assy, fussy hair.
Miss
.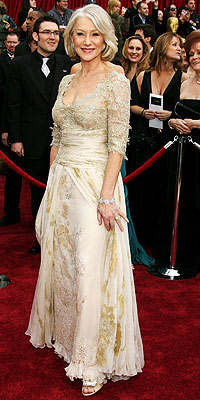 HELEN MIRREN
: Pure class and elegance, Helen has it. She has not disappointed this awards season, continuing to outshine most of her younger contemporaries. This lady makes over fifty sexy, hot and desirable. And she has one of the best accessories - - the Oscar.
Hit
.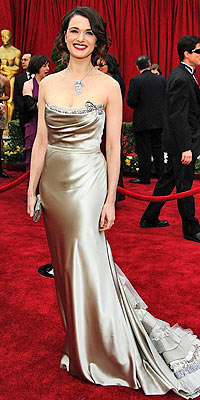 RACHEL WEISZ
: Breathtaking. I love this dress. She looks fabulous. The necklace might be a bit much, with the decorative bodice, but this is how you do it at the Oscars. Bravo.
Hit
.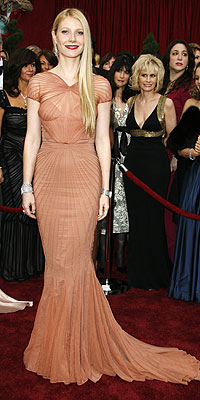 GWYNETH PALTROW: Love the long hair. Love the understated jewelry. Love the general style of this dress. The color leaves me a little cold and what color is it anyway? Blush? Orange sherbet? Terracotta? Minus the questionable hue, the dress is a
hit
.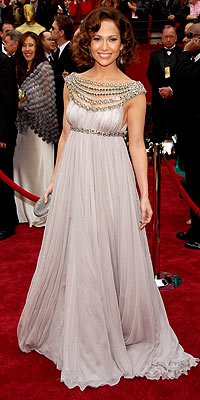 JENNIFER LOPEZ
: I'm not a fan of JLo's but I like the color and the overall style of this dress. I don't care for the probably twenty pounds of linked chain around her neck but the rest of the dress is classy enough to overlook that. Her makeup is perfect, but what is up with her hair? She needs to fire Ken Paves immediately - - she looks like a Texas socialite circa 1965.
Dress - hit, minus the chains. Hair - godawful mistake
.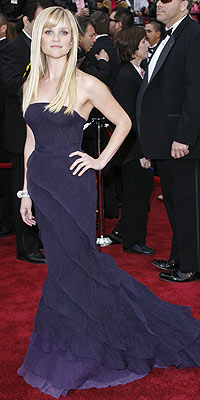 REESE WITHERSPOON
: Quite possibly my favorite look of the evening. Love the color, love the way it drapes on her body, love the simple hair and makeup. Love, love, love. If this awards season is any indication, Reese has her A-game on.
Hit
.