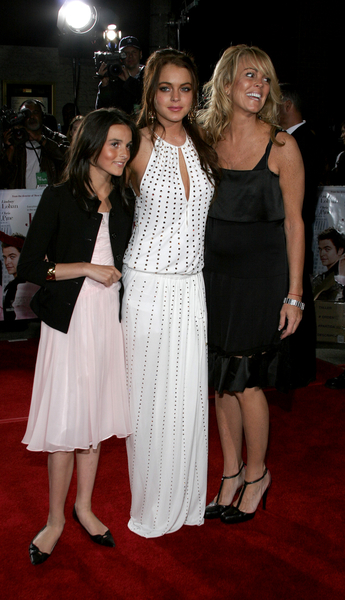 Source/Image: Celebitchy
The apple sure doesn't fall far from the tree, does it? Those Lohan women are a classy bunch.
With LiLo in rehab and currently fairly low on the gossip radar, leave it up to 13 year old Ali to pick up where her troubled elder sister left off. That's right, 13 years old.
Ali was apparently involved in a car accident after sneaking out of the house to meet her 16 year old boyfriend. I'm sure sneaking out of Dina "Sore on the Ass of Society" Lohan's house was about as hard as convincing Britney Spears that soda pop and alcohol are actually good for babies. Really, where the hell is Child Protective Services?
So back to Ali. Apparently her 16 year old Romeo took the family car without permission and only has a learner's permit. What's the big deal, Nassau County? LiLo took someone else's car without permission and she sure as heck shouldn't have a driver's license. In California, they actually reward you for that kind of behavior, if you fall under the celebrity exception rule.
Neither Little Lohan nor her boyfriend were injured and apparently after the minor accident, Dina and Ali were in Utah visiting with LiLo.
Were it anyone but Dina Lohan, I would hope that she was marching her possibly wayward 13 year old off to visit with her obviously very wayward older sister, to see what can happen when you let your life get out of control. But Dina being Dina . . . I'm sure she zoomed in on a photo op and took it.
Speaking of LiLo, word in the gossip world is that she is taking her current rehab about as seriously as she has her previous two. Meaning that this is simply a stint for her to relax and work on her next publicity eff-up. "Insiders" claim that LiLo has been seen buying beer in town, doing drugs, acting the total diva and even doing the nasty in the facility bathroom with a male rehabber. Once again, cl-ASSY. Apparently LiLo doesn't want to do her chores and thinks "rules don't apply to her". Yeah, maybe because at least in the state of California, they don't.