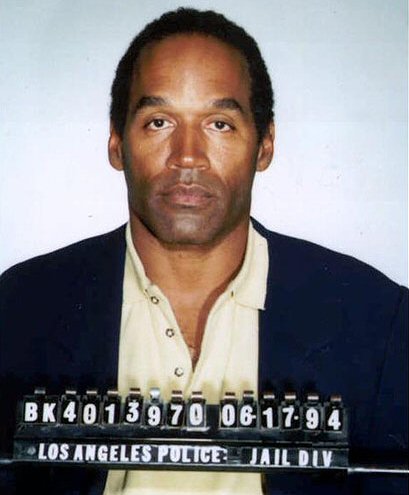 Murderer and Suit Thief
Photo Source: CeleBitchy
Some people just can't stay out of trouble, can they?
O.J. Simpson is currently being investigated for a burglary that went down last night in Vegas. No, we're not talking about some stellar casino heist. Remember, we are talking about a practically illiterate former football player who signed a so-called suicide note (snort!) with a smiley face. Just keep things in perspective. Bruce Fromong and Alfred Beardsley were in a room at the Palace Station Hotel when, they claim, Simpson busted in with several men and Fromong and Beardsley were robbed at gunpoint. They claim that O.J. called the shots. What happened, O.J.? Did you lose your knife?
Why, you might ask, would Simpson and company rob these two? Well, Beardsley is a sports memorabilia dealer and apparently he had a few items that used to belong to Simpson that Simpson wanted back. Like the suit he wore when he was acquitted. Yeah, I don't get the point either. But apparently Simpson wanted it back and didn't feel like he should have to pay for it.
Quite naturally, Simpson is denying the armed robbery charge, as well as being in the Palace Station Hotel room. He claims that he was conducting a "sting operation". Ummmm, last time I checked the only thing O.J. was good for was playing golf in Florida and stating he was not a killer although if he was to actually kill the people he was charged with killing, he would be more than happy to tell you how he did it, even though he didn't do it. I'm sure if you asked him he would also deny that he ever hit his wife, deny that he can't read or write for shit, and deny that Tom Cruise is light in the loafers.
He really is a tool of epic proportions.