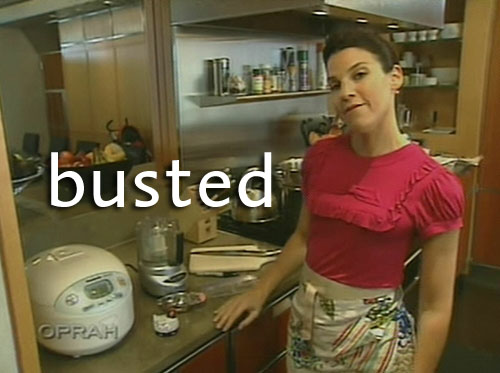 Just a mere week or so after a fawning appearance on Oprah, complete with Mrs. Seinfeld sending Oprah $20 grand worth of shoes in appreciation, hawking her new cookbook, Deceptively Delicious, which currently sits atop the bestseller list, Mrs. Seinfeld is being accused of plagiarizing the earlier published The Sneaky Chef. For non-Oprah watchers out there, both cookbooks are essentially a how-to guide on tricking kids (or picky spouses) to eat healthy foods by sneaking them into "regular" foods. Nothing terribly litigious there. But this is where Mrs. Seinfeld runs into trouble.
Per the N.Y. Daily News:
But chef and baby-products mogul Missy Chase Lapine came out in April with a
book, "The Sneaky Chef: Simple Strategies for Hiding Healthy Foods in Kids'
Favorite Meals." Lapine baked her spinach brownies with Al Roker on the "Today" show; Seinfeld shared her spinach brownies with Oprah on that show last week.
Mothers on Oprah.com and parenting sites have noted similarities after perusing the puree-spattered pages of both. Some wondered whether the wealthy Seinfeld didn't
have cooks who helped cook up her recipes.
Seinfeld writes about having an epiphany that, "While I was cooking dinner, pureeing butternut squash for the baby and making mac and cheese for the rest of us, I had the crazy idea of stirring a little of the puree into the macaroni. … The colors matched -you couldn't really see the squash in there -and the texture was
perfect."
Lapine, who founded the Baby Spa natural products line, writes: "If
you want to hide something in macaroni and cheese, you have to match the color
of the dish. You could easily introduce white bean puree in the mac and
cheese."
Seinfeld and Lapine both have recipes for mashed potatoes with
hidden cauliflower, grilled cheese with secret sweet potatoes, green eggs made
with pureed baby spinach, and carrot-laced tacos.
Lapine stayed hidden herself when we called, but Craig Herman, an executive at her publisher, Running Press, said ominously: "I won't be able to comment until next week."
Several things come to mind here. First, did you know that Jessica Seinfeld was a chef? I didn't. Did you know she was qualified to write a cookbook? I didn't. I've come up with some inventive things too, but I don't fool myself to think that I could write a book about them and that people would buy it, much less become a bestseller. Which leads me to my next point. Would anyone have given a rat's ass, much less offered to publish Jessica's book, if she wasn't Mrs. Jerry Seinfeld? Come now. And that leads me to my third point. Jerry Seinfeld is worth more money than my dazed little brain can comprehend. Somehow I don't picture Jessica slaving away in the kitchen. Or taking care of the couple's three children herself. No, she definitely seems more of the "supervisor" type to me.
And sending Oprah $20,000 worth of shoes? Oprah, who is probably worth more than Jerry Seinfeld . . . to whom $20,000 is probably like a dollar to me. Call me crass but wouldn't a lovely note, maybe with a donation to Oprah's favorite charity, have sufficed . . . and been more practical?
Photo Source: Cele/bitchy