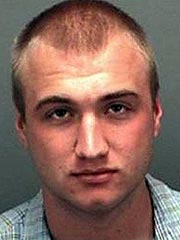 We can only hope.
The State of Florida has apparently decided that Nick Hogan is a marginal celebrity at best and therefore, the celebrity justice exception rule does not apply to him. Small miracle. Florida issued a warrant for the 17 year old's arrest for Reckless Driving Involving Serious Bodily Injury for the car accident that Hogan caused last August, resulting in his passenger's brain injury and permanent life support status. I think they could also issue a warrant for Nick for being a tool. They might have better chances of conviction on that count.
Nick, probably doing the only intelligent thing thus far in his trashy life, turned himself in. But, of course, had to issue a statement.
"Nick and the entire 'Hogan' Bollea family are saddened that criminal charges have been filed in regards to the tragic single car accident on August 26, 2007. Nick will meet and answer these charges in the appropriate arena – a court of law. The family's primary
focus
and concern still remains for the continued recovery of Nick's longtime friend John Graziano. The Bolleas will also continue to stand by the Graziano family and help them in any way they can.
"The tragedy to both families is compounded by the fact that unfortunately John was not wearing his seatbelt. Thankfully, Nick was wearing his. Because of what happened to John, the entire Bollea family will make it a priority to increase public awareness about the importance of always wearing your seatbelt.
"There has been much speculation as to the
speed
and wet road conditions surrounding this accident. Although all the evidence has not been evaluated, preliminary reports from the experts indicate that this was not, in fact, a high-speed accident.
"Because Nick is still a juvenile and has no prior criminal record, we are disappointed that he is being charged as an adult offender. However, we are confident that the evidence will demonstrate that this was an accident. We ask all who follow these events to keep an open mind as to the facts until they have been ultimately determined. Finally, we thank all who have prayed for John's recovery and ask for your continued support and
prayers
."
How despicable are these people? Blaming John Graziano for his injuries because he didn't wear a seatbelt? Are they going to state that Princess Diana deserved to die because she didn't have a seat belt on? I guess Nick was completely and totally innocent because he's "still a juvenile". And I guess that blood alcohol level of .02 was wishful thinking? Please.
Would the Hogan family be "saddened" if John Graziano had walked away from the crash, Nick had been hospitalized and Florida was arresting John? Somehow I doubt it.
Bitch needs to go to jail. For being a spoiled, indulged little twit, if nothing else.
UPDATE: On November 7, Clearwater Police acknowledged that Nick "Tool for Life" Hogan was racing at the time of the crash.
By the way, John Graziano was a U.S. Marine who served in Iraq and suffered a broken skull in the accident. He has also been comatose since the crash.
Lock the bitch up and throw away the key. Seriously.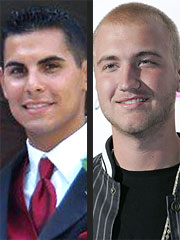 Photo Source: People magazine