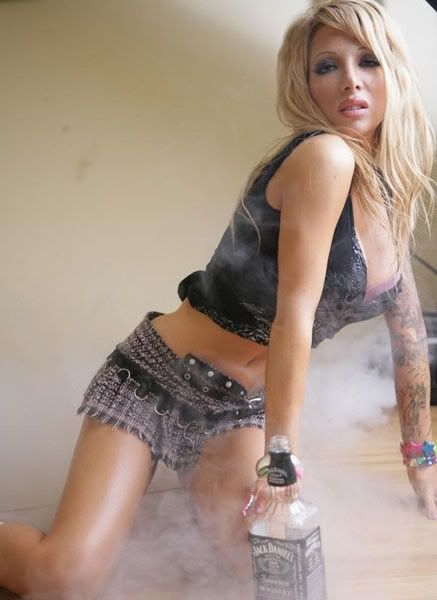 Photos: Celebitchy.com
In "I can't believe it!" news, Tommy Lee and Pam Anderson are dating other people.
I know, I know. It was all set to be the fairytale romance of the century, complete with tattoos and STDs, but it simply wasn't meant to be.
While the heavily inked duo are apparently still living together while Pam's home is renovated (is that code for sprayed down with a heavy duty penicillin?) their sharing of digs is supposedly a platonic one. Pam is reportedly dating a member of the Abu Dhabi royal family - - obviously a gentleman who has far more money than sense and no personal regard for hygiene or sexually transmitted diseases.
Tommy, for his part, has now taken up with Daisy De La Hoya. Daisy, if you recall, was the runner up on Rock of Love 2, where she competed with twenty other publicity hungry hobags for the dubious honor of Bret Michaels' hand (and losing to the geriatric and alphabetically challenged Ambre). With her cosmetically enhanced duck lips, her inability to form full sentences and a proclivity for waving her arms around and gasping for air before bursting into tears, Daisy was a competitive reality show's wet dream. Although she didn't win the fair Mr. Michaels, she moved on, albeit briefly, to Carmen Electra's ex, Dave Navarro. If you didn't question Daisy's taste in men during the Rock of Love run, her choice of Mr. Navarro certainly should have given you pause.
Seeing as how Daisy slept with Bret, who slept with Pam in the past and Pam slept with Tommy, who is now sleeping with Daisy, does that mean that Bret and Tommy have now officially slept with each other?