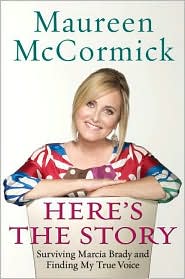 As a fan of all things Brady Bunch, I was looking forward to Maureen ("Marcia Brady") McCormick's autobiography if, for no other reason, than to hear (hopefully) a little more behind-the-scenes dirt on what really happened during the filming of the Bunch. Yes, I read Barry Williams' Growing Up Brady back in the early 90s, but I figured Ms. McCormick could tell us more.
Upon hearing early reviews that McCormick admitted to being a cocaine addict and suffering from depression and fears of going insane, I really considered giving this book a pass. Honestly, I didn't want to destroy the warm fuzzy image of the impossibly perfect Bradys. Yet, temptation got me and I gave this book a read.
I was not able to read it in one sitting, primarily because the material was so raw, so honest that it was almost painfully overwhelming. Ms. McCormick could have left a great deal of material out, to protect herself, and she did not. She was brutally honest - - she came from a very fractured family (a mother suffering from mental illness, a father who cheated and found God, one older brother who was a classic overachiever, one older brother who fell into drugs and led a groundless life and an older brother who suffered from mental disabilities), she suffered personally and professionally from Marcia Brady's perfectionism and she was addicted to cocaine for years. Her cocaine addiction was so bad, in fact, that she broke off one relationship because she loved the drug more than the man, she dated one man because he could get her drugs and she lost countless opportunities because of coke. (An interview with Steven Spielberg, where she showed up high, as well as a first date with Steve Martin that went nowhere because she was stoned). She also admits allowing a man to videotape her so that she might get drugs. Most definitely not very Brady-esque.

However, throughout the book, McCormick is exceedingly likable. Even at her rock bottom worst, you want her to get better because she's so damn nice. She makes no excuses for her behavior and her road was not an easy one. She didn't recover overnight; in fact, it took years for her to reach a good place. Years during which her career stalled, her marriage got rocky, she became a mother and her birth family imploded. For anyone who might believe that McCormick wrote this book purely for money, I would suggest you read it first. I hardly think money was the driving force, if any motivation, here. I think McCormick wrote it now because she was finally able to put her demons at rest - - nearly 40 years after appearing as Marcia Brady.
And I say good for her and much continued success.
Frankly, my only complaint about this book is not enough information on the original Brady Bunch - - not surprising though when you read about what McCormick was going through in her personal life. And what a pleasant surprise to know that not only did her Brady Brides husband Jerry "Wally Logan" Houser become a good friend to her but eventually helped to start her on the right path.
Most definitely a thumbs up and a "must read".