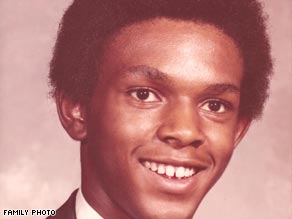 Timothy Cole
We could berate Texas for gifting us with the unique presence of the Simpson sisters (Jessica and Ashlee) and maybe, most particularly, for their overbearing pop, Joe. Or even go political and harp on the Bush brothers (George and Jeb) and even their father.
But today I'm talking about Timothy Cole.
Back in 1985, Timothy was a student at Texas Tech University in Lubbock. He had finished two years of college previously and had just completed a two year stint in the Army before returning to school. Also in Lubbock was a serial rapist, known locally as the "Tech Rapist", who had attacked and brutalized four women before 20 year old Michelle Malin, also a student at Texas Tech, was attacked, abducted and raped by the perpetrator. When shown a photo array of possible suspects, Malin chose Timothy Cole from the selection, stating he was her attacker. She later identified him in a physical lineup.
However, even from the beginning, there were problems with Timothy Cole being the Tech Rapist. For instance, Malin told authorities that the man who attacked her was a smoker, and smoked "the entire time" he was in her presence.
Timothy Cole was not a smoker. He had suffered from severe asthma, requiring daily medications.
That fact, apparently, didn't dissuade local law enforcement from arresting Timothy and a jury from convicting him, nor a judge from sentencing him to 25 years.
Timothy was given a plea bargain offer, which would have put him on probation and he declined. Later, after being convicted and incarcerated, he rejected an offer of parole that would have required him to admit guilt in the crimes.
Timothy's mother told a local news station that her son's greatest wish was that he be exonerated and completely vindicated.
Well, Timothy. It looks like that day is finally here.
Jerry Johnson, a convict who himself had been in prison since 1985, serving a 99 year term plus life on two convictions for sexual assault, wrote a letter to the Cole family in 2007. In that letter, Johnson confessed to committing the rape of Michelle Malin and stated that he had been trying to contact the Cole family since 1995. Johnson wished to pay for his crime and allow Timothy Cole his freedom and his vindication.
What Jerry Johnson didn't know was that Timothy Cole already had his freedom, if not vindication. Timothy Cole died in prison on December 2, 1999 from heart complications due to his asthmatic condition. He was only 39 years old.
Yesterday, a judge reversed Timothy Cole's conviction, nearly a decade after he died, nearly 25 years after he was falsely convicted and after DNA tests verified what Timothy Cole had told the people of Texas repeatedly - - he was innocent.
There are so many things about this story that anger me. Convicting an innocent man of a crime he did not commit is one of the worst miscarriages of justice imaginable. I know that it happens but how did it happen in this case? DNA samples were evidently taken from Michelle Malin's rape. Science has come a long way, even since 1985 but surely the state would have done a DNA test at the time they arrested Timothy Cole. If they didn't, should anyone be convicted of such a crime, and sentenced to such a term, when witness identification is the only basis of conviction? I don't fault Michelle Malin. She went through a traumatic experience - - witness identification is notoriously sketchy and questionable when your witness isn't the victim. But when DNA is available should any person be convicted without a DNA test, done by two separate, unrelated labs, verifying the right person is in custody?
I know mistakes happen. I know police departments are overworked. But it seems as though the authorities made up their minds that Timothy Cole was their man, despite no DNA match, despite the fact that Timothy was not a smoker, could not smoke due to his medical condition. Due to that shortsightedness, Timothy was convicted. Wrongfully and falsely convicted. And he would never have another day of freedom in his life. He died behind bars, still labeled a rapist by the justice system that should have been in place to protect him.
Rest in peace, Timothy Cole. I hope that where you are, you know that your name has been cleared and you have been vindicated.
And I hope that the State of Texas learns from this tragic, overwhelming mistake.