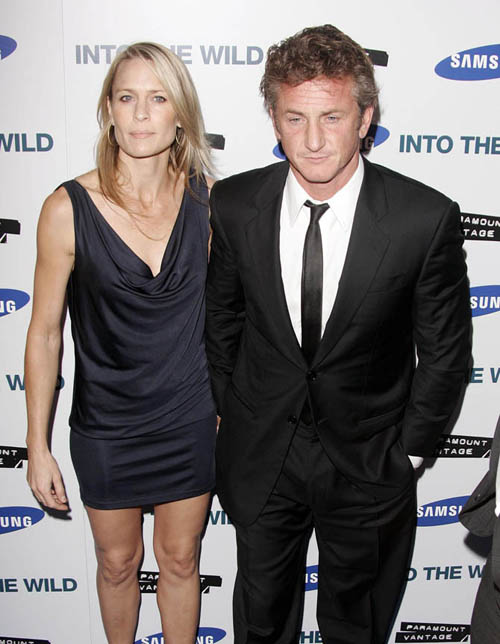 Source: Celebitchy
Not that this is news to anyone, I don't think, because Sean Penn has "self-centered bastard" down to a science.
No real surprise that he has once again split from his long suffering wife Robin Wright, and filed for separation in Marin County, California. What is surprising is that he requested the court to waive spousal support - - meaning that Penn won't have to provide any type of alimony or future financial support to Robin.
Normally, in California, the courts would look at how long the parties have been married and split the time in half when determining alimony. In other words, Penn and Robin have been married 13 years, so the rule of thumb would be 6.5 years of alimony. There are always exceptions, of course - - when a husband or wife quits working to advance the other's career, or raise a family. And naturally, when there is a prenup involved.
I don't know if Penn and Robin have a prenup. I would imagine so, especially since this was Penn's second marital go-round (the first being with Madonna). And I do know that Robin had a fairly successful acting career before Penn and has acted sporadically throughout her marriage, in order to raise their children, Dylan and Hopper.
However, I think Penn's desire to waive spousal support is nothing but fuckery and douchebag tactics. I don't know what happened to cause the marital breakdown, other than merely life with Sean Penn. My guess would be that the majority of the blame probably rests at Penn's doorstep, rather than Robin's. This man probably has more money than most of us will ever see, this woman has been his partner for nearly 20 years and the mother of his children - - and he is already fighting to keep from giving her any type of support? I know she can probably continue acting, but that's not the point. She sacrificed her career for a number of years in order to allow him to continue his - - which prospered. I'm not saying that Robin didn't want to slow down her work schedule for her family and her children - -she probably did. But it did allow Penn the best of both worlds - - a lovely wife, a family to come home to and a thriving career that has only escalated.
It's only fair, then, that he should provide for Robin. Maybe not indefinitely but come on! What does he think his kids think about this? How would he feel if some fuckwit did this move on his daughter one day?
Sean Penn may be a talented and gifted actor (with an Oscar to prove it) but I'm done with him. He's beyond a douche in real life, a self-entitled dickbag who can't even come up with an ounce of humanity for the mother of his children. So from this point forward, I boycott all Sean Penn films, out of respect for Robin Wright, who I hope goes on not only to find a man deserving of her but a wildly successful post-Penn career.