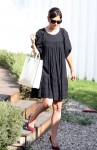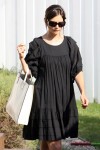 Source: celebitchy
Just look at her. Katie Holmes. A fucking joke nowadays. Used to be primed to be someone (according to such glossies as Entertainment Weekly and maybe my husband, who thought she was sexy cute in Batman Begins)- - not Nicole Kidman, despite her and Tiny Tom's best efforts. Certainly no Sarah Lawrence or Helen Hayes or even Liza based on the barely passable reviews she got for "All My Sons". Nope. Nowadays she's the glassy eyed poster child for the wonders of Scientology . . . and the wonders of being married to Tom Cruise.
Here she is yesterday in L.A. All (Tom's) money in the world at her disposal and she looks like she should be selling blankets in Tijuana before heading off to a funeral. What the fuck is she wearing? It's summertime, for heaven's sake. Summertime in L.A. So why is this crazy chick trying to look like a trendy (not!) pregnant (not!) Morticia Adams?
The Cruise Camp is pulling out all the stops, aren't they? Katie is so very obviously trying to snare the pregnancy angle - - is she or isn't she? Bump watch, get ready. We all know Tom and Katie don't share a bedroom (because Tom, ahem, snores) but I think we're all fairly certain that Tom isn't riding Katie's carousel, if you get my drift. So unless they're breaking out the baster for another round of Wheel of Scieno Paternity, it's not happening. And with Katie headed to Australia this summer to film a movie, not likely.
The Cruise Camp. They try so hard it's painful. Not funny, not even humorously predictable because you just know they can't see the humor in it. Tiny Tom wants everyone to believe he's just a "normal" guy (puhhhhhllllllllleeeeeease!) and Katie is just a busy little hands-on soccer mom. Problem is that Tiny Tom is so desperate, his stink is starting to bury Will Smith and Katie is a shit actress.
Again, all the money in the world . . . why can't this "childbearing woman" find an outfit that flatters her body type? (Long torso, low slung breasts, nonexistent ass and very generous calves). If most of us can do it on a Target/JCPenney budget, surely Katie and Tom's black Am Ex card can figure it out.
What's with the red high heels with this dress? If you're going to wear this dress (which I wouldn't), flats would be a smarter choice. (You know, Katie, instead of wearing those ballet-style flats with the rolled up denim shorts over leggings). And we get that you just luuuuuurve that big white bag - - we've seen you with it daily for well over a week. But a black dress, red shoes and a white bag? What the fuck? What country's freak flag is she waving? And what the hell is in that big bag? A Piñata? Tom?