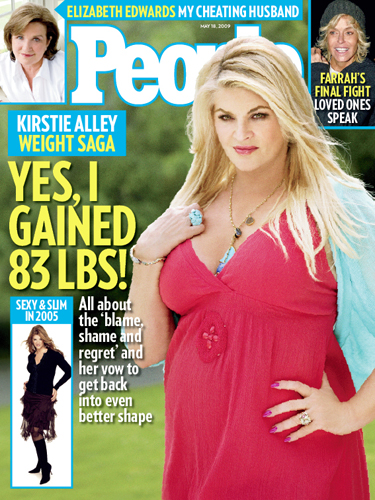 Source: Celebitchy
Is it just me or is Kirstie Alley one of the most annoying celebs on the planet? I know I'm biased because she's a ScienoTOOLologist but honestly . . . why are Scienos some of the most annoying and aggravating public speakers ever?
Since Kirstie can't find an acting job to save her life, she is pretty much keeping her name out there by gaining weight, losing weight, gaining weight. And I'm pretty sure that nobody cares nearly as much as she does.
She is People magazine's current cover (ahem) lady and yes, that cover does proclaim "I Gained 83 Pounds!" The cover also mentions the blame, the shame and Kirstie's desire to get back into shape . . . not with Jenny Craig, but with her own endorsed weight loss plan which she claims has helped her to lose 20 pounds in a month.
Look, I have sympathy for people who struggle with weight issues. I think everyone has either had body issues of their own or knows someone who has. It sucks. I have never been overweight but I am definitely seeing my metabolism slow down and things starting to settle and I would love to lose a good 10 pounds. However, even if People wanted to speak to me or put me on their cover, there is no way in Fat Actress hell I would do it.
So Kirstie claims that she didn't weigh herself for over a year and when she did get back on the scale, she was hitting 228 pounds, which she claims is her highest weight ever. I think she's being disingenuous here - - the last time she gained and then lost weight, she claimed to tip the scales at 200 pounds, her then-highest weight ever. Personally, I think she fibbed on the numbers because she looked heavier than that. When she went on Oprah in the largest so-called bikini known to man, claiming to have lost 75 pounds, she was lying thru her pasta-filled teeth because there was no way she dropped to anywhere close to 125. And at 5'8", she shouldn't.
Annoying Kirstie names butter as her biggest culprit - - stating that she would eat two cups of pasta drenched in six tablespoons of butter. Ugh. I don't think butter is the only problem. Two cups of pasta is a lot.
Regardless, why exactly is this news? Did Tom Cruise forget to sign the weekly check for his publicity push? Based on the cover of People, I'd rather see a cover story about Farrah Fawcett. She is far more interesting to me than some relatively unemployed Scieno actress who has an oral obsession.
It seems to me that Kirstie is only opening up to People in order to market her own weight loss program. (And would you really use a weight loss program from a person who freely admits she yo-yos and can't keep it off?) Seriously, this is like taking marital advice from Lisa Marie Presley or Tom Cruise (both Scientologists, by the way).
Kirstie, go lose weight. Good luck. But do it privately. And stop harassing Oprah into letting you show off on her stage.