Seriously. He is the perfect man. He is a sexy beast, he loves his girlfriend, his kids and he seems to have his head on straight, not believing the Hollywood PR machine and not finding it necessary to have People on speed dial and inventing his own PR (unlike some people who have height issues, wear man heels and belong to the Church of Scientology - -not that I'm naming names or anything).

Johnny is on the cover of Vanity Fair's July issue and as much as Vanity Fair irked me with the super photoshopped cover of Tom, Katie and Suri nearly 3 years ago, they scored big time with this one. And no photoshopping anywhere!
Reading the excerpts that have been released (so far), it's like you're sitting down and talking with Johnny yourself. He declares Elizabeth Taylor "an astonishingly great broad", after stating that she is the one great Hollywood icon he would want to, and did, spend time with. His private Bahamian island is known as Little Hall's Pond Cay, with different beaches named after his girlfriend, his kids, Hunter S. Thompson and Marlon Brando - - and a patch of water called "Heath's Place" after the late Heath Ledger. He says that Chicago has become his favorite American city after spending much of last year there, filming
Public Enemies
(can't wait to see that one!) "Everybody [in Chicago] treated me normal. They'd say, 'Hey, Johnny,' then left me alone…. I visited the Art Institute and the Chicago
Music
Exchange. I loved looking out the car window at all those incredible neighborhoods and architecture." He claims that Tom Cruise in
Tropic Thunder
is the best he's ever seen Cruise. Escapism is survival to him - - and while money can't buy you happiness, it sure can buy you a yacht to bring you closer to it.
How can you not just flove Johnny Depp? He seems like a man's kind of man to kick back and have a beer with and the type of man who would be very romantic with his woman.
Honestly, there is a reason why Johnny Depp has lasted in the business as long as he has. He has his priorities straight, he doesn't have a reputation for being difficult, he's talented and he takes risks. And it helps that he's a sexy beast too.
Vanity Fair hits newsstands on June 3 in New York and Los Angeles and June 9 nationally.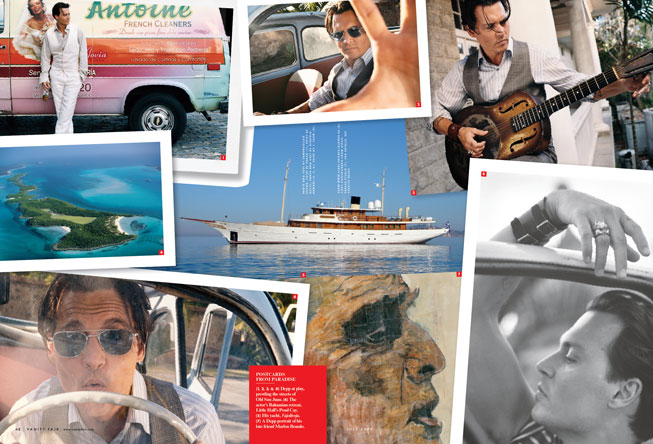 Source: celebitchy