Hosted by MizB on Should Be Reading, Friday Finds is all about the great book finds we've discovered this week.
Darcy and Anne by Judith Brocklehurst
Description: It is a truth universally acknowledged that Lady Catherine will never find a husband for Anne . . .
When a fortuitous accident draws Anne away from Rosings and her overbearing mother's direct influence, she is able to think and act for herself for the first time ever. In the society of her cousins Darcy and Georgiana, and, of course, the lively Mrs. Darcy, Anne reveals a talent for writing and a zest for life. Meanwhile, Lady Catherine is determined to choose a husband for Anne. But now that Anne has found her courage, she may not be so easy to rule.
Anne de Bourgh is a sympathetic character whose obedience and meekness were expected of women in her day. As she frees herself from these expectations, Anne discovers strength, independence, and even true love in a wonderfully satisfying coming-of-age story.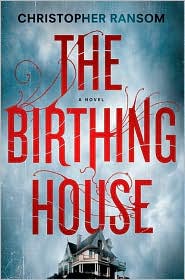 The Birthing House by Christopher Ransom
Description: Conrad Harrison takes a wrong turn out of Chicago and winds up buying an old Victorian house in a small Wisconsin town - - just the thing for getting out of L.A., which Conrad hates because of his low-bucks fumbling and dependence on his high-bucks salesperson wife. But they are no sooner relocated than Joanna flees to an eight-week training for a new job. While she is away, the neighbors befriend Conrad and ask him to keep an eye on their pregnant daughter (the boyfriend is a flake) while they're off recharging their marriage. Ad hoc guardianship first seems a good reason to get out of the house, which is getting to Conrad. He keeps hearing a newborn crying, glimpsing a dark figure, and after he sees Joanna in a photo album that goes with the house, he is seriously freaked, also occasionally unable to account for long periods of time. The house is haunted, of course, and Conrad's is just the kind of frustrated consciousness most susceptible to occupation by the spirit it contains.

Vanished by Joseph Finder
Description: Nick Heller is tough, smart and stubborn. And in his line of work, it's essential. Trained in the Special Forces, Nick is a high-powered intelligence investigator - - exposing secrets that powerful people would rather keep hidden. He's a guy you don't want to mess with. He's also the man you call when you need a problem fixed.
Desperate, with nowhere else to run, Nick's nephew Gabe makes that call one night. After being attacked in Georgetown, his mother Lauren lies in a coma and his step-dad, Roger, Nick's brother, has vanished without a trace.
Nick and Roger have been on the outs since the arrest, trial and conviction of their father, the notorious "fugitive financier", Victor Heller. Where Nick strayed from the path, Roger followed their father's footsteps into the corporate world. Now, as Nick searches for his brother, he's on a collision course with one of the most powerful corporations in the world - - and they will stop at nothing to protect their secrets.