I thought it would be fun to blog about books that were made into movies and a general comparison between the two.
Here is my pick for today: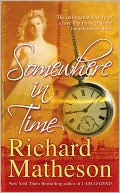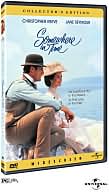 Bid Time Return by Richard Matheson (1975) to Somewhere in Time (1980)
I saw the cinematic version of this story first, back when it was on the fairly new HBO around 1981. It was summer vacation, there was only one HBO channel (and no Showtime, etc.) and Somewhere in Time was playing at 10 a.m. I was hooked immediately and ultimately distressed when my mother shut the t.v. off because I had not cleaned my room. As only a 12 year old girl can do, I got upset and cried because I felt strangely connected to the story and the movie. Fortunately, back in those days, HBO replayed their 10 a.m. movies at 6 p.m. the same day and I was able to watch the movie in its entirety. It was the first movie that I can recall becoming, well, obsessed with. I fell in love with Christopher Reeve and Jane Seymour, fell in love with the theme music (and would actually play it years later in a piano recital), even told myself I would name my future children Richard and Elise, after the title characters (God had other plans for me). I became hooked on the subject of time travel, an interest that has not faded over time.
It would be a handful of years before I read the book my favorite movie was based on and as is often the case when you see (and enjoy) a movie before reading the book, it was somewhat of a shock reading a story that was similar to the cinematic version and yet different. In Matheson's book, the opening story for Richard, who is a screenwriter, taking place in the very early 70s, with Elise McKenna 's time being 1896. In the film, the story opens in 1980, with Richard, a playwright, traveling to 1912 to find Elise. The change was made, and to the film's benefit, to allow a college-aged Richard to meet an elderly Elise before going back in time. Also, in the book, Elise's stage mother was a firm presence, wherein the character was deleted altogether in the movie. The character, in my opinion, works in the book but would not have worked in the film. The mother's presence would have lessened Robinson's influence on Elise and ultimately changed the feel of the movie. As well, the character of Richard's brother had a small presence in the book and zero presence in the movie. Additionally, the setting in the book was the Hotel del Coronado, a stunningly beautiful Victorian masterpiece in Coronado, California (and where I had my bridal breakfast - - my last meal as a single lady - - the morning of my wedding). The Hotel Del is like taking a walk back in time but it had to be changed for filming - - it simply could not be filmed without modern amenities like cars being visible. The equally lovely and stunning Grand Hotel in Mackinac Island, Michigan was selected as its successor - - not just due to the turn of the century architecture but because Mackinac Island does not allow cars and made the filming that much smoother. Lastly, and without giving away any spoilers, the resolution for both Richard and Elise were vastly different between the book and the movie. I prefer the film version - - and ending which leaves me in tears every time I see it (and I've seen the movie at least two dozen times). If you want heartwrenching romance that requires a good supply of Kleenex, trust me. Nothing beats a lovesick Christopher Reeve, pining over Jane Seymour, and clutching a penny.
Both pieces of work are superb on their own merits. If I had to choose a favorite, though, it would be the movie. Mainly because I saw it first and the costumes, sets and music are so incredibly beautiful it's a real treat for any romance fan.