Throwback Thursday is a weekly event hosted by Jenny at
TakeMeAway
. It is the time each week to recognize those older books . . . an older book you've always wanted to read, or one that you have read and love, maybe one from your childhood; or review an older book - - how about even a classic! Leave a link to your blog here, if you have one, or a comment.
So what's your Throwback?
This week's Throwback is:
Small Sacrifices by Ann Rule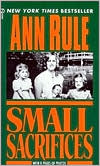 Perhaps nothing is more frightening or fascinating than the female sociopath and maybe that's partly why this book is so intriguing and such a true crime classic (or should be).
In May of 1983, young divorced mother of three Diane Downs showed up in an Oregon ER with her three horribly wounded children. All of them had been shot, by a bushy haired stranger that Diane ostensibly stopped to help. Certainly shocking enough to think that anyone would shoot three young children, but the investigation into the incident unravels the tangled life of Diane, a woman who alleges childhood abuse at the hand of her father, physical and verbal abuse from her ex-husband, promiscuous behavior and an obsession with a married lover who had no intentions of leaving his wife, nor of becoming a father to her three children. Diane's apparent solution to her dilemma - - sacrifice her three children on the altar of her married boyfriend, making it look as though some crazy stranger had accosted them.
Ann Rule doesn't have the title Queen of True Crime Writers for nothing and this book is superlative. The story was obviously painstakingly researched and it shows. It moves along quickly, it doesn't get bogged down in the legal aspects of Diane's arrest and eventual trial, or the psychological detail of Diane. Ms. Rule's portrayal of Diane is frightening - - a child/woman who was cold-blooded enough to attempt to murder her children in order to have one man, and then unhesitatingly sleep with another man in order to impregnate herself with a child to replace a dead one.
Even if you don't traditionally read true crime books, this one is well worth your time. I would highly recommend it.