Hosted by MizB on Should Be Reading, Friday Finds is all about the great book finds we've discovered this week.
This week I have to give a special shout out to Sharon of
Sharon's Garden of Book Reviews
. Her lovely site introduced me to author Annette Blair and Ms. Blair's "Vintage Magic Mystery" series, which are my Friday Finds this week.
Even though Sharon's "Cozy Mystery Week" has wrapped up, I encourage you to check out her blog, as well as all the wonderful little cozy mysteries she highlighted this week.
Happy reading!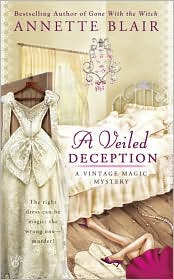 A Veiled Deception
by Annette Blair
Synopsis:
Her mother was a witch? Home from the New York fashion world to plan her sister's wedding, Madeira Cutler becomes a sleuth when the bride is accused of murder. Turns out, Maddie can "read" vintage clothes and follow their clues. What other gifts did she inherit from her mother? (from Annette Blair's website)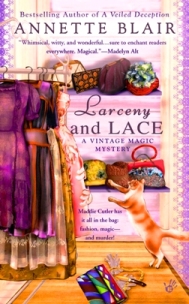 Larceny and Lace
by Annette Blair
Synopsis:
Maddie Cutler has it all in the bag: fashion, magic--and murder!
If that dress could talk... The second entry sparkles in bestselling author Annette Blair's enchanting Vintage Magic Mystery Series for Berkley Prime Crime starring Madeira Cutler, a psychic dress designer--and daughter of a witch--who "reads" vintage clothes and follows their clues. (from Annette Blair's website)