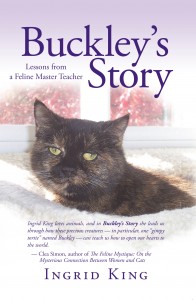 Synopsis:
Buckley's Story is the story of how one small cat changed the author's life in ways she never could have imagined. In this warm-hearted memoir, Ingrid King shares the story of Buckley, a joyful, enthusiastic and affectionate tortoiseshell cat she meets while managing a veterinary hospital. When Ingrid leaves her job at the veterinary hospital to start her own business, Buckley comes home to live with her and Amber, another tortoiseshell cat who had adopted the author several years earlier.
Buckley is diagnosed with heart disease after only two years of living with Ingrid, and caring for Buckley through her illness only deepens the bond between cat and human. Interspersed with well-researched information about cat health in general, and heart disease in particular, the author describes the challenges and rewards of managing illness in a feline companion, and ultimately helping her through the final transition. Ingrid shares both the day-to-day joys of living with a special cat as well as the profound grief that comes with losing a beloved animal companion.
Buckley's Story is a celebration of the soul connection between animals and humans, a connection that is eternal and transcends the physical dimension
.
I will say right off the bat that I am a sucker for animal stories. I love them. And so, on the one hand, I can be extremely biased toward any type of animal story. On the other, I can be more critical because I am such a fan. I knew when I agreed to read and review
Buckley's Story
that it would be an emotional experience for me. I too am a cat person and I have been a parent to three cats over the last almost twenty years. As author Ingrid King did, I have had to make the humane and yet agonizing decision to allow two of them to pass on. And like Ms. King, I have also learned more about life and myself from these little masters.
Buckley's Story
is a wonderful, happy and emotional read whether you are a cat person or dog person. Ingrid King writes solely from the heart. Her delight over Buckley, relief that Buckley and her 'sister' Amber form a bond and grief over Buckley's loss resonate from every page. Reading Ms. King's recollections of Buckley's diagnosis, illness and eventual passing away made my soul ache in remembrance of what I had been through but at the same time, it was strangely cathartic. Knowing that the pain I felt at losing a pet - - something not everyone understands and acknowledges - - was shared by Ms. King felt like a soothing balm. And reading too that I was not alone in feeling the spirits of my deceased little ones still with me, and getting signs from them, was akin to joining a secret club.
I fell in love with Buckley - - with her determination to find her forever home, her tenacious nature and her joyful demeanor. Her exuberance at greeting life each and every morning gave me pause and should give every reader pause to think about life and how very thankful we should be for every moment.
The subtitle of
Buckley's Story
is
Lessons from a Feline Master Teacher
and that is no exaggeration. Buckley taught Ms. King many different things during their time together and Ms. King has honored Buckley's memory by sharing those things with us.
Buckley's Story
isn't a big read - - it comes in at 118 pages - - but what it lacks in volume it makes up for, tenfold, in touching your heart and spirit. This is one book that will be a permanent fixture in my library. I cannot encourage you enough to read this book and share it with friends and family - - but keep a box of tissues handy.
Buckley's Story: Lessons from a Feline Master Teacher
is available at major booksellers, including
Amazon
and
Barnes & Noble
.
Author Ingrid King's website is
here
.
Many thanks to Dorothy Thompson and "Pump Up Your Book Promotions" for the opportunity to read and review this book.

Review copy provided by the author.
And now, as a special treat, in addition to the review, I am pleased to welcome author Ingrid King to Psychotic State!
Ingrid, thank you for taking the time to chat with me and my readers.
My pleasure! Thanks for having me!
Let's talk for a moment about your new book, Buckley's Story. Do you think Buckley guided you in telling her story?
Absolutely. She definitely had a paw in writing her story.
Did you find writing Buckley's Story to be cathartic?
Writing the book was a big part of my personal healing process after she passed away last Thanksgiving weekend. I wanted the book to be a lasting tribute to my little cat. The tears that came with writing certain chapters of the book helped me release some of the devastating grief I experienced after I had to let her go. Revisions and rewrites were a bit of a mixed blessing - on the one hand, the chapters about the beginning of our love story together brought lots of wonderful memories and smiles, while working on the last two chapters brought back those final days back in vivid detail every single time. But ultimately, writing the book was such an incredible celebration of her life that the joy outweighed the sadness.
Do you think Buckley's Story will become a jumping off point for a writing career for you?
It already has. It not only made me realize that writing is my true passion, I'm actively pursuing writing for various cat related publications as well as continuing to write for my own E-Zine News for You and Your Pet and for The Conscious Cat. I'm also starting to think about my next book.
Do you still have signs that Buckley is around you?
I feel her with me almost all the time. I had a difficult time feeling her presence after she first passed away - I think that's only natural, when we're in the initial throes of grief. I know she tried really hard to make her continued presence known, and she left me some pretty obvious signs early on that I talk about in the book. Now that some time has passed, I feel my connection with her constantly. There's a palpable sense of her energy in what used to be her favorite spots around my house. At my book launch party in early November, I felt her joyful spirit celebrating right along with me. I think she's quite proud of the book and the success it's had so far!
How is Amber doing as an only cat?
Amber is doing really well. I think animals are so much more connected with Source, and they understand much better than we do that there really is no death. We just change form as we transition from the physical to the non-physical dimension. Our loved ones never leave us, it's just hard for us sometimes to feel the connection because our grief gets in the way. I know Amber still communicates with Buckley all the time. She actually blogged about her continued connection with Buckley on The Conscious Cat! (here's the link if you'd like to include it: http://consciouscat.net/2009/11/27/ambers-mewsings-13/ )
What can you tell us about Casey's House?
Casey's House is a private rescue group in Bluemont, VA. Cindy Ingram, the owner and founder of Casey's House, is one of these amazing souls who have dedicated their lives to the well being of cats, and the sanctuary that she has created for older and hard to adopt cats is absolutely wonderful. I am in total awe of what people like Cindy can accomplish with very little funding and a whole lot of heart, dedication and hard work. I will be forever grateful to Cindy for rescuing Buckley from the farm in Southwestern Virginia - if it wasn't for Cindy, I might never have met my little cat.
Please tell us about "Healing Hands".
Healing Hands is my Reiki business. Reiki is an energy therapy that originated in Japan. The practitioner transfers healing energy to the patient through a light touch either directly on or slightly off the body. I provide Reiki treatments for pets and for people.
You also author a blog called The Conscious Cat. Can dog owners benefit from this blog too?
Anyone interested in consciously creating a happy, healthy life for themselves and their pets can benefit from The Conscious Cat. I offer posts on a lot of different topics: cat health, pet health in general, human health, book reviews of animal-themed books, interviews with authors of animal-themed books, advice on how to create a happy life, law of attraction, feline lifestyle, and more.
Can you take us through a normal day in the life of Ingrid King?
On a typical day, I'll get up around 6am, feed Amber, and then have my coffee with Amber purring away in my lap after she's enjoyed her breakfast. After that, I usually check e-mail and catch up on Facebook, Twitter and several blogs. After breakfast, I try to get my daily walk in, then I'm ready to get started with my writing and any other computer work that is on the to do list for the day. I take a short break for lunch, and then return to the computer. In the evenings, I either read or watch some tv. I go out to eat with friends at least once or twice a week. But since I started my own business, no two days have been exactly alike, and I really like that about being my own boss. I love being in charge of my schedule and being able to just go with the flow when I feel like it!
If you could use only one word to describe or sell Buckley's Story to a reader, what would it be?
Heart-touching.
Last, but certainly not least, what is your favorite memory of Buckley?
Oh my gosh, it's really hard to pick just one! I think Buckley's first Christmas with Amber and me is one of my favorites. I don't think this little cat had ever experienced Christmas before, let alone gotten presents. That first Christmas, I totally overdid it, and so did many of my friends. Buckley, and Amber, got so many presents! Buckley was in kitty heaven - I don't know what was more fun for her, the actual presents, or opening the packages wrapped with tantalizing ribbons and bows. She played with abandon, rolling around with her new catnip toys.
Ingrid, thank you so much for joining us and thank you for sharing your memories and story of Buckley.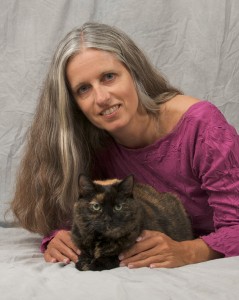 About author Ingrid King:
Ingrid King is a former veterinary hospital manager turned writer. She publishes the E-zine
News for You and Your Pet
, covering topics ranging from conscious living to holistic and alternative health. She shares her experiences with consciously creating a joyful, happy and healthy life for pets and people on her popular blog,
The Conscious Cat
. Ingrid lives in Northern Virginia with her tortoiseshell cat Amber.
Ingrid King's blog
The Conscious Cat
is
here
.
For further information on Healing Hands go
here
.
For further information on Casey's House, go
here
.