Mailbox Monday is a weekly meme hosted by Marcia at
The Printed Page
where we share what reads we have received in our mailboxes the previous week.
Here are the goodies that arrived for me last week:
What Would Rob Do?
by Rob Sachs (publicist contact)
"
From rising NPR star Rob Sachs—irreverent takes on handling life's sticky situations based on the popular What Would Rob Do? podcast
What do you do if you get a bad haircut? Do you have trouble remembering people's names? What happens if you clog the toilet at a friend's house? NPR's Rob Sachs has given prudent and entertaining advice for dealing with all sorts of everyday challenges in his successful What Would Rob Do? podcast series, consulting with experts ranging from Fabio to Erik Estrada on dozens of daily dilemmas and common conundrums. Now he brings a wealth of this advice together in a single survival guide to fixing some of life's most vexing minor mishaps and speed bumps.
*Entertaining yet practical advice on what to do in tricky life situations
*Includes tips from interviews Sachs has conducted with celebrity experts
*Written by Rob Sachs, who has been a producer, reporter, and director for NPR shows including
Morning Edition
,
All Things Considered
, and
Day to Day
. Sachs also has a successful NPR podcast series.
What Would Rob Do?
tackles the full spectrum of life's absurdities and shows how to turn them into an opportunity for adventure, fun, and best of all, laughter."
Conviction
by Skylar Hamilton Burris (won through a giveaway at
Austenesque Reviews
)
"
Georgianna Darcy has a flattering array of suitors in this charming continuation of Jane Austen's Pride & Prejudice. As the sister of Fitzwilliam Darcy, Georgianna is assured of a large dowry. It's up to her to weed out the fortune hunters amongst her beaus. But can she further determine who loves her for all that she represents in the way of beauty and innocence and who loves her for all of herself? And once she has given her word to one man, can she train her heart to obey? Undertones of choices, convictions and life's ironies feed this engaging romp that introduces the captivating Jacob Markwood and other new characters as well as continuing the lives of favorites Mr. Darcy and Elizabeth, Jane and Mr. Bingley, Kitty, Wickham and Caroline."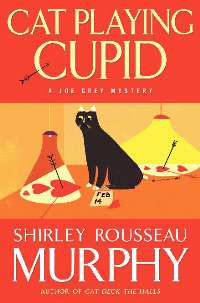 Cat Playing Cupid: A Joe Grey Mystery
by Shirley Rousseau Murphy (gift)
"
Love—and murder—is in the air. . . . It took Joe Grey's human, Clyde, nearly forever to pop the question to Ryan Flannery, and what more romantic time to tie the knot than on Valentine's Day? But dark secrets from the past, uncovered by Joe and his feline pals, threaten to ruin the happy union.
First, a body discovered many miles away reopens a ten-year-old cold case involving a man who disappeared days before his own wedding. The jilted bride is back in town and eager to find the truth . . . or to hide evidence of her own wrongdoing. Trouble is, she's soon involved with Ryan's father, who is house-sitting and preparing meals for Joe Grey while Clyde and Ryan are on their honeymoon.
Then another body is found closer to home on the grounds of a ruined estate, deserted save for a band of unusual feral cats. Around the wrist of the corpse is a bracelet bearing the image of a rearing cat, and the cats discover a rare literary volume hidden nearby that divulges their own secret: their special ability to speak.
But as the police investigate the two murders, located more than five hundred miles apart, only Joe Grey suspects that the crimes are related. It takes a chase from which the tomcat wonders if he'll emerge alive for anyone to hone in on the connection between the murders. Finally, feline perception and cop sense combine to bring a killer to justice in this delightful new tale involving Shirley Rousseau Murphy's three amazing cats."
So what goodies arrived in your mailbox last week?