Book Beginnings on Friday

is a meme hosted by Becky at Page Turners. Anyone can participate; just share the opening sentence of your current read, making sure that you include the title and author so others know what you're reading. If you like, share with everyone why you do, or do not, like the sentence.
(With thanks to the lovely Juju at Tales of Whimsy for directing me to this meme).
"It

is a truth universally acknowledged, that a single man in possession of a good fortune, must be in want of a wife."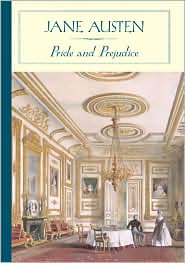 Pride and Prejudice by Jane Austen
Okay, so this was a bit of a cheat since this is not my current read but as this is the last week of Book Rat's JANE IN JUNE, I thought it would be appropriate to select one of the best known, and best written, opening sentences ever to be put to paper. With this one opening line, Jane Austen tells us that not only is Pride and Prejudice going to be about men and women and wealth (or lack thereof) but that her book is also going to have biting wit. This sentence is dripping with irony, is it not? Particularly given that the man in the book with the greatest fortune (Mr. Darcy) appears to be anything but in want of a wife.
What about you? What is your Book Beginning on Friday?
This meme is part of Book Rat's month-long event JANE IN JUNE.