During the week I normally run across at least one book review that is so inspiring, so well-written and whets my appetite for the book so much so that it sends me scurrying to my Goodreads To-Be-Read list like Scrooge scurrying after a penny. My

Must Read Review

for this week is . .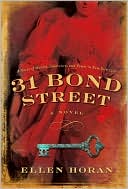 ALAYNE from The Crowded Leaf's review of 31 Bond Street by Ellen Horan
Earlier today I came across a link to Alayne's review from back in March. I had heard of 31 Bond Street and in fact, had it on my Goodreads TBR list. From the brief synopsis I had read, it sounded like my kind of book - - an atomospheric period piece concerning a murder mystery. Better yet, it's a fictionalized account of a real crime. I'm on board!
Alayne's review provided more information not only about the story in the book but the real life story behind the novel and cemented my desire to read this little gem.
Enjoy these little snippets of her review:
Well crafted, with experienced execution, 31 Bond Street is a delicious debut novel that exhibits the author's talent with an intriguing narrative.
Intrigued, Horan researches the story regarding the murder, and skillfully puts down on paper a tale of intrigue, suspense, betrayal, and murder.
Horan switches back and forth, tantalizingly leading us up to the actual murder, but leaving us frothing with questions as she nimbly skips forward to the trial at hand.
In all, I was swept away in a believable interpretation of what could actually have happened back in 1857
For the full review, go HERE.
For more information about author Ellen Horan and/or the real life mystery at 31 Bond street, go HERE.
Thank you, Alayne, for the fantastic review!
Did anyone else come across a must read this week?