Waiting On" Wednesday is a weekly event hosted by Jill at
Breaking the Spine
that spotlights upcoming releases that we're eagerly anticipating.
This week's pre-publication "can't-wait-to-read" selection is: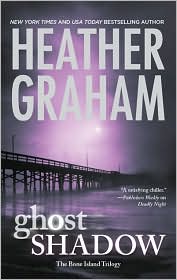 Ghost Shadow (Bone Island Trilogy #1)
by Heather Graham
Publication Date: June 29, 2010
Synopsis (from Barnes & Noble):
There are those who walk among us who are no longer alive, but not yet crossed over. They seek retribution…vengeance…to warn. Among the living, few intuit their presence.
Katie MacDonald is one who can.
As she's drawn deeper and deeper into a gruesome years-old murder, whispered warnings from a spectral friend become more and more insistent. But Katie must uncover the truth: could David Beckett really be guilty of his fiancée's murder?
Worse – the body count's rising on the Island of Bones, and the dead seem to be reenacting some macabre tableaux from history. The danger is increasing by the moment – especially as Katie finds herself irresistibly drawn to David, who may be responsible for more than just one killing….
I love ghost stories - -throw in a murder mystery as well and it's the equivalent of Christmas morning for me. I've never read anything by Heather Graham but I'm willing to try this book!
What's
your
"waiting on" pick this week?