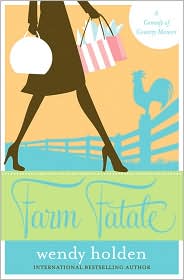 Synopsis: Rosie and Mark, a couple living in chic urban squalor, pine for the rustic bliss of country life. Newly minted, Samantha and Guy want the same thing-on a somewhat grander scale. The four converge on the quaint village of Eight Mile Bottom. With its eccentric residents, including a reclusive rock star, a nosy postman, a foxy farmer, and one ghost with a knife in its back, the two couples are soon swept up in various romantic entanglements, mix-ups, slipups, and unlikely seductions in their search for ever-greener pastures.

Farm Fatale
combines a tried and true formula (city dwellers move to the country) with brash humor to make a perfectly splendid summer read. What is it about city slickers wanting to move to the country? Yearning for the more simple life? Rosie and Mark and Samantha and Guy find it simply isn't so simple.
I liked central character Rosie and empathized not only with her desire to escape her hectic city life but the elation and the frustration of being a new homeowner.
Less likeable, and intentionally so, was character Samantha, who made for interesting reading but was so entitled and frustrating, you wanted to jump through the pages of the book to throttle her!
The supporting characters of
Farm Fatale
were a motley mix of appealing and remarkable characters, from Rosie and Mark's inquisitive postman to their noisy and numerous neighbors, the Muzzles to long marrieds and garden lovers Mr. and Mrs. Womersley to Mrs. Womersley's farmer nephew Jack , to the shy and media fearful local celebrity to barkeep Alan, owner of the Barley Mow, where hen races are all the rage.
I will admit that some of the Brit speak and slang gave me pause, having to read sentences twice in order to fully digest their meaning but I loved getting a peek at British country life.
While I had a pleasurable literary ride while reading
Farm Fatale
, I did enjoy the first two-thirds of the book better than the last third. The book did not end as I expected it to and a surprise ending can always be welcome but I honestly felt disappointed with the conclusion.
All in all, even with a less than perfect ending in my eyes, I would still recommend
Farm Fatale
to any reader looking for a fantastic little book to slide into a beach bag or for a city dweller looking for an escape to the country. Just be prepared for the craziness that comes with simpler living!
Farm Fatale
may be purchased at major booksellers now, including
Amazon
and
Barnes & Noble
.
For more information about author Wendy Holden, please visit her website
here
.
Review copy of this book provided by the publisher in exchange for a fair and honest review. In no way did the provision of the book affect the outcome of my review.