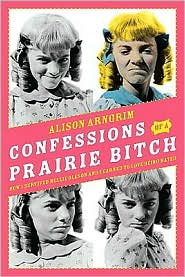 Synopsis: For seven years, Alison Arngrim played a wretched, scheming, selfish, lying, manipulative brat on one of TV history's most beloved series. Though millions of Little House on the Prairie viewers hated Nellie Oleson and her evil antics, Arngrim grew to love her character—and the freedom and confidence Nellie inspired in her.
In Confessions of a Prairie Bitch, Arngrim describes growing up in Hollywood with her eccentric parents: Thor Arngrim, a talent manager to Liberace and others, whose appetite for publicity was insatiable, and legendary voice actress Norma MacMillan, who played both Gumby and Casper the Friendly Ghost. She recalls her most cherished and often wickedly funny moments behind the scenes of Little House: Michael Landon's "unsaintly" habit of not wearing underwear; how she and Melissa Gilbert (who played her TV nemesis, Laura Ingalls) became best friends and accidentally got drunk on rum cakes at 7-Eleven; and the only time she and Katherine MacGregor (who played Nellie's mom) appeared in public in costume, provoking a posse of elementary schoolgirls to attack them.
Arngrim relays all this and more with biting wit, but she also bravely recounts her life's challenges: her struggle to survive a history of traumatic abuse, depression, and paralyzing shyness; the "secret" her father kept from her for twenty years; and the devastating loss of her "Little House husband" and best friend, Steve Tracy, to AIDS, which inspired her second career in social and political activism. Arngrim describes how Nellie Oleson taught her to be bold, daring, and determined, and how she is eternally grateful to have had the biggest little bitch on the prairie to show her the way.

If you haven't read Alison Arngrim's
Confessions of a Prairie Bitch
, run, run, run out right now and get yourself a copy, whether you buy, borrow or steal it (not so much that last part, okay?). It is
that
good.
I was a child of the 1970s, who grew up watching
Little House on the Prairie
and "hating" mean old Nellie Oleson. Wasn't she one of the cruelest child characters ever? Bless Alison Arngrim and not only her acting skills (because Arngrim herself was nothing like mean spirited Nellie) but her incredible wit and humor. She is one of the funniest people you may never meet.
She spills all, and I do mean all, in
Prairie Bitch
, from her early beginnings being born into a showbiz marriage, to her father's unspoken but accepted lifestyle, to the abuse she suffered at the hands of her older brother, to the life-changing audition for the iconic role of Nellie, to her life beyond the prairie, on the stage as a stand-up comedienne and her tireless activism for AIDS awareness.
I loved everything about this book and read it in under two days. Arngrim shares behind the scenes tales of
Little House,
including the aforementioned Michael Landon's aversion to underwear while in costume as Charles Ingalls, to the then 10 year old Melissa Gilbert's precociousness and all knowing information of cast and crew, to Melissa Sue Anderson's strikingly different real life personality versus that of her role as sweet Mary Ingalls, to the immediate and devoted love she felt for her co-star and television husband Steve Tracy. I was fascinated with the recountings of what really happened behind the scenes of some of my more favored
Little House
episodes, as well as the fact that Arngrim and Gilbert were best friends, despite playing mortal enemies each week in front of the cameras.
Her chapters on the abuse she suffered at the hands of her brother were tragic and could be hard to read, but Arngrim's strength powers through each page and this reader was encouraged that Arngrim did not fall victim to the drugs/alcohol/crime/early death cycle that many child actors do. Lindsay Lohan, among others, could take a page from Arngrim's book and learn a lot.
Perhaps most touching were the sections recounting Arngrim's initial meeting with actor Steve Tracy, their enjoyment working together, their loyal friendship and his final days. I know I will never be able to watch another episode of
Little House
featuring Nellie and Percival without a sadness in my heart at the loss of Tracy, as well as a special happiness knowing that neither Arngrim nor Tracy were acting in those scenes showcasing Nellie's and Percival's happiness.
Many celebrities and former child actors have written memoirs, some very well done, some for a quick buck, but I would certainly place Arngrim's at the top of the list without hesitation. You simply cannot go wrong with
Confessions of a Prairie Bitch
and I promise you will gain respect for Arngrim in the process.
Confessions of a Prairie Bitch
is available for purchase at major booksellers, including
Barnes & Noble
and
Amazon
.
To follow Alison Arngrim's Twitter page, go
HERE
.
FTC Disclosure: This book was borrowed from my local public library. I was neither compensated nor paid in any way for this review.