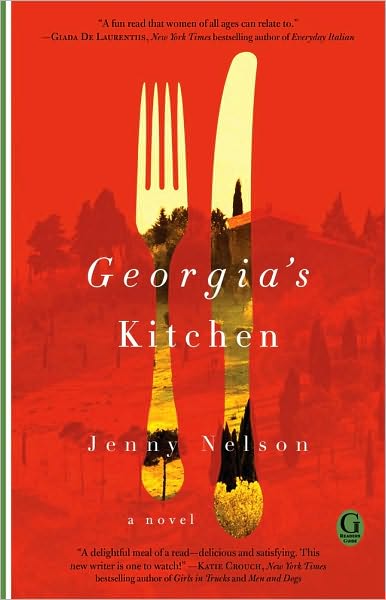 Synopsis: At thirty-three, talented chef Georgia Gray has everything a woman could want—the top job at one of Manhattan's best restaurants; a posse of smart and savvy gal pals who never let her down; and a platinum-set, cushion-cut diamond engagement ring courtesy of Glenn, the handsome entertainment lawyer who Georgia's overbearing mother can't wait for her to marry. The table is set for the ambitious bride-to-be until a scathing restaurant review destroys her reputation. To add salt to her wounds, Glenn suddenly calls off the wedding.
Brokenhearted, Georgia escapes to the Italian countryside, where she sharpens her skills at a trattoria run by a world-class chef who seems to have it all—a devoted lover, a magnificent villa, and most important, a kitchen of her own. Georgia quells her longings with Italy's delectable offerings: fine wine, luscious cheeses, cerulean blue skies, and irresistible Gianni—an expert in the vineyard and the bedroom. So when Gianni tempts Georgia to stay in Italy with an offer no sane top chef could refuse, why can't she say yes?
An appetite for something more looms large in Georgia's heart – the desire to run her own restaurant in the city she loves. But having left New York with her career in flames, she'll need to stir up more than just courage if she's to realize her dreams and find her way home.
(from Amazon)

I wanted to read Georgia's Kitchen initially merely for the Italian connection. I have never been to Italy but I have long dreamt of travelling there and I counted on this book allowing me to live out my passport-laced fantasies. Georgia's Kitchen did that and more.
The book was a scrumptious treat from start to finish, between the descriptive and mouth watering foods described to the warm terracota of Tuscany to the desire for Georgia to open her own restaurant.
I loved the character of Georgia, from the funny way her parents met and she was conceived to her troubling relationship with her mother to her devotion to her deceased grandmother to her loyal friends and adorable dog. I was invested in Georgia and her story and author Jenny Nelson deserves praise for accomplishing this task.
I also appreciated that Georgia had to struggle and work hard not only during her stay in Tuscany but also in order to accomplish her dream, owning her very own restaurant. It wasn't an overnight process and it made the story much more relatable.
The supporting characters in Georgia's Kitchen were a delightful mix of flighty, fun, sarcastic and stuffy, from the Marco employees to the kitchen staff in Tuscany to the New York investors.
I enjoyed my stay, albeit a too brief one, with Georgia and I think women of all ages will too. I hope that Ms. Nelson will allow us to catch up with Georgia again in the future.
Georgia's Kitchen
is available for purchase at major booksellers including
Barnes & Noble
and
Amazon
.
For more information on
Georgia's Kitchen
and author Jenny Nelson visit Ms. Nelson's website
here
.
Review copy of this book provided by the publisher in exchange for a fair and honest review. In no way did the provision of the book affect the outcome of my review.
Endnote: My apologies to Ms. Nelson for the delay in getting this review up and posted this morning. I am in the midst of a cross-country move and having computer difficulties but please bear with me!