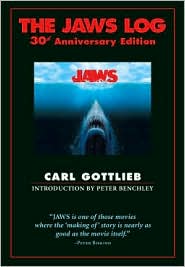 Synopsis: To coincide with the 30th anniversary of the now-classic Steven Spielberg film, a new expanded edition, in hardcover for the first time, of one of the best "making of" books of all time.
Steven Soderbergh, Bryan Singer, Rod Lurie, John Landis, Steve Martin, and Rob Reiner are among the many filmmakers who concur, more than 30 years after its first publication, that The Jaws Log by screenwriter Carl Gottlieb deserves an enduring place as a "modern classic" on filmmakers and filmmaking.
The only book on how 26-year-old Steven Spielberg transformed Peter Benchley's #1 bestselling novel into the phenomenal movie it became, Gottlieb's chronicle of this extraordinary year-long adventure was first published in 1975, generating 17 printings and selling more than 2 million paperback copies. Long out of print, a new, expanded paperback edition was published in 2000 to mark the movie's 25th anniversary, featuring a 22-page behind-the-scenes photo album, a new afterword by Gottlieb updating readers on the fates of the filmmakers, and an introduction by Peter Benchley.
Now, on the occasion of the movie's 30th anniversary, The Jaws Log is available for the first time in an affordably-priced hardcover edition with a new foreword by the author.

Duh-DUH. Duh-DUH. DUH DUH DUH DUH DUH DUH DUH! Don't go in the water!
If you're like me, you consider the 1975 film
Jaws
to be one of the best motion pictures of all time. Before the age of CGI and various special effects, then novice director Steven Spielberg had to depend on an often irritable and uncooperative mechanical shark, underwater film footage, phenomenally well cast actors and a superb script. And the rest, they say, is cinematic history.
Carl Gottlieb, one of the screenwriters on
Jaws
, recounts the several years long battle not only to get this iconic movie made but also the bumps and problems encountered along the way. Particularly fascinating, in my opinion, was that with the exception of one notable scene,
Jaws
was shot on the ocean. Fantastic for film viewing but not so much for the overtaxed crew who had to deal with sinking boats, choppy waters, weather and passing sailboats. And remember, this was a time when movies were primarily shot at the studios (or a water tank at the studio). And that aforementioned scene? That was the infamous "Ben Gardner's head" shot with Richard Dreyfuss . . . and that scene was shot at editor Verna Fields' pool (with help from a little milk to make the water look murky).
Also fun was reading about the two mechanical sharks (jovially nicknamed Bruce by Spielberg, who coined the moniker after his lawyer's first name) and the many difficulties they brought to the film set. Their problems were our reward in the end, as not seeing the shark, or only seeing quick glimpses, made it that much more frightening.
Spielberg is presented in a warm and extremely creative light by Gottlieb and his longstanding tradition of never being on set for the final day of filming is explained here (and started with
Jaws
). Interesting to note, as well, that Spielberg was not the first choice as director and was convinced throughout much of the filming that
Jaws
would be dead in the water and would bury his Hollywood career (which consisted of one film up to that point). Ah, how the tides turned.
The chapters on the casting of the central characters made for informative reading. Only Murray Hamilton as Mayor Larry Vaughn was the first choice actor cast with all others being second or lower choices. Could we really imagine anyone else but Roy Scheider as Chief Brody or, especially, anyone but Robert Shaw as the tough old Quint?
Gottlieb also shares behind the scenes friction between Shaw and Richard Dreyfuss, which translated well into their characters' animosity on film, as well as Shaw's well reported drinking and flying to Canada on off days to avoid taxes.
And remember Roy Scheider's famous line "You're gonna need a bigger boat?" Per Gottlieb, that line wasn't scripted but was improvised by Scheider.
Of particular interest is how the film was received upon release and how long it was in first run at the theaters (from June 1975 well into December 1975 - - unheard of today). In case you didn't know,
Jaws
was the first ever summer blockbuster, making over $100 million.
Gottlieb also provides updates on many of the central characters who are still with us - - you will be happy to know that Lee Fierro (Mrs. Kintner) still resides at Martha's Vineyard and is still acting in the local theater group and Jeffrey Vorhees, who played her son, Alex Kintner, owes a sandwich shop on Martha's Vineyard that serves an Alex M. Kintner meat sandwich.
I would recommend
The Jaws Log
to any film lover or anyone who wishes to have a companion to the phenomenal movie. You can't go wrong.
The Jaws Log
is available for purchase at major booksellers, including
Barnes & Noble
and
Amazon
.
FTC Disclosure: This book was borrowed from my local public library. I was neither compensated nor paid in any way for this review.
From 1975, here is the original
Jaws
trailer. Enjoy!