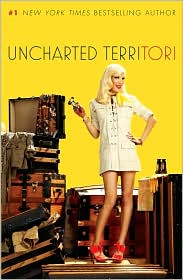 Synopsis: Welcome to Los Angeles, birthplace and residence of Tori Spelling.
It's not every Hollywood starlet whose name greets you on a Virgin Airways flight into la-la land. But Tori Spelling has come to accept that her life is a spectacle. Her name is her brand, and business is booming. Too bad when your job is to be yourself, you can't exactly take a break.
Tori finally has everything she thought she wanted—a loving family and a successful career—but trying to live a normal life in Hollywood is a little weird. With the irresistible wit, attitude, and humor that fans have come to love, the New York Times bestselling author of sTORI telling and Mommywood is back with more hilarious, heartwarming, and candid stories of juggling work, marriage, motherhood, and reality television cameras.
Tori comes clean about doing her time on jury duty, stalking herself on Twitter, discovering her former 90210 castmates' "I Hate Tori" club, contracting swine flu, and contacting Farrah Fawcett from the dead. Like many mothers, she struggles to find balance (Stars, they're just like us!)—only most women don't have to battle it out with paparazzi at the grocery store. She talks openly about the darker side of life in the spotlight: media scrutiny over her weight and her marriage to Dean McDermott, her controversial relationship with Dean's ex-wife, and her unfolding reconciliation with her mother.
Having it all isn't always easy—especially when you're a perfectionist—but with the help of her unconventional family and friends, an underwear-clad spiritual cleansing or two, and faith in herself, she's learning to find her happy ending. Because when you're Tori Spelling, every day brings uncharted terriTORI.***
Just when you thought sTORI time was over, the beloved Hollywood starlet has so much more to say. ***"My life has changed dramatically in the past several years. I married Dean; we moved several times; we had two children; we created a show that has gone into its fifth season on the air. I have love. I have a family. I have a home. I have work. It's all I ever wished for. But trying to be a perfect wife, mother, and mini-mogul has its challenges, especially if, like me, you want to be perfect at all of them at the same time."
—
from uncharted terriTORI

I am an unapologetic
Beverly Hills 90210
fan (the original, that is). There, it's out in all its embarrassed and shameful glory. As such, I am also a fan of Tori Spelling as well as her now defunct series
So NoTORIous
and the current
Tori & Dean: Home Sweet Hollywood
. Don't judge.
I enjoyed Tori's first book, s
TORI Telling.
I found it to be much like
So NoTORIous
- - refreshing, able to make light of her own celebrity, laugh at herself and appearing honest. Tori is humorous and it came through in spades with
sTORI Telling
.
Not so much with this effort. Not that there is anything wrong with
Unchartered TerriTORI
. The writing style and the tone keep in step with her first tome and there are some very humorous sections in this one, including the opening chapter with Tori on an airplane, headed back to Los Angeles (or better known as "the birthplace of Tori Spelling!").
I liked the portions of the book that dealt with Murray (although keep a tissue handy), with the reliable and beloved Patsy and even the chapter on how Tori's former
90210
co-stars currently feel about her today. Just like high school, indeed.
But truth be told, I could have done without the jab at Mary Jo Eustace, Dean McDermott's former wife. They are divorced, have been divorced, and I think it's high time that Tori refrain from reminding us that Dean left her and the state of their sex life at the time. It makes Tori appear petty and churlish.
And if, like me, you watch Tori and Dean's Oxygen network reality show, much of the book will no surprise to you, as you've already seen it, from the cross country trip in the RV, to Dean's motorcycle accident to Mama Lola. That was likely the biggest disappointment to me - - that the book felt like a rehashing of what was previously aired on Oxygen.
But like her previous efforts,
Unchartered TerriTORI
was a quick and breezy read, as light as cotton candy and ultimately as filling. The book is a cute read while immersed in it but you might be left thinking that Tori wrote about a whole lot of nothing by the last page.
I would recommend it for Tori Spelling fans and for a light and pleasant beach read but would probably encourage a library rental versus a purchase.
Unchartered TerriTORI
is available for purchase at major booksellers, including
Barnes & Noble
and
Amazon
.
FTC Disclosure: This book was borrowed from my local public library. I was neither compensated nor paid in any way for this review.