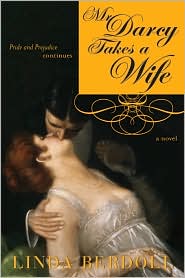 Mr. Darcy Takes a Wife: Pride and Prejudice Continues
by Linda Berdoll
Originally published in 2004
Description: This sexy, epic, hilarious, poignant and romantic sequel to Pride and Prejudice goes far beyond being a Jane Austen sequel. It's Tom Jones meets Jane Austen meets Georgiana, the Duchess of Devonshire, with essence of Scarlett O'Hara and the Wife of Bath thrown in.
Every woman wants to be Elizabeth Bennet Darcy-beautiful, gracious, universally admired, strong, daring and outspoken-a thoroughly modern woman in crinolines. And every woman will fall madly in love with Mr. Darcy-tall, dark and handsome, a nobleman and a heartthrob whose virility is matched only by his utter devotion to his wife.
Their passion is consuming and idyllic-essentially, they can't keep their hands off each other-through a sweeping tale of adventure and misadventure, human folly and numerous mysteries of parentage.
The book was self-published in 1999, with more than 10,000 copies sold. (from Booklist)

This cheese stands alone, based on the Booklist endorsement, because I found
Mr. Darcy Takes a Wife
to be not so much
Pride and Prejudice
continued as it is a new take on a beloved classic.
Writing a sequel to such a beloved classic, with such endearing characters as Mr. Darcy and Elizabeth Bennet, is a hard task for any writer and I struggled with Linda Berdoll's version.
Is Ms. Berdoll attempting to write a campy parody? Or guilty pleasure trash? I'm not sure and I don't know if Ms. Berdoll was either.
While she expresses clearly that Darcy and Elizabeth have an obviously very happy and mutually pleasing marriage, the constant sex, sex, sex gets old. I like a nice juicy novel as much as the next person, but the constant references to their overabundant sex life, and Darcy's exceptional endowment got so repetitive that it got boring.
Ms. Berdoll was attempting to write in Austen's style, a venture that I found bumpy. The words at times feel forced and there is none of the lightness and humor that was so present in Ms. Austen's literature.
I also did not like the liberties that Ms. Berdoll took with some characters, most particularly Bingley. It's bad enough to be subjected to verses about how Jane is apparently not as sexual as her husband (or obviously Elizabeth), but then to read further assaults upon Bingley's character. No!
On a positive note, Ms. Berdoll does give storylines to smaller characters of
Pride and Prejudice
, notably Colonel Fitzilliam.
But overall, I was heartily disappointed with
Mr. Darcy Takes a Wife.
None of the wit and fun was present in Elizabeth that engrossed
Pride and Prejudice
- - she seemed merely to be present in
Mr. Darcy Takes a Wife
to rhapsodize over their lovemaking and Darcy's endowment. Darcy's character was explored more in this book, but I didn't find him more likable for it.
If you are a Jane Austen purist, and a fan of the original
Pride and Prejudice
, this book may not be your cup of tea and you may find it disappointing.
FTC Disclosure: This book was borrowed from my local public library. I was neither compensated nor paid in any way for this review.