"Too Rare to Die": A Review of Fear and Loathing in Las Vegas
The cultural and historical significance of Hunter S. Thompson's work in the latter half of the 20th century is hard to overstate. The "Gonzo" style he developed in his writing for Rolling Stone and his many novels, letters and essays influenced a generation of writers and had a profound effect on the evolution of American journalism and literature. His most famous work,
Fear and Loathing in Las Vegas: A Savage Journey to the Heart of the American Dream
has inspired legions of devoted fans and a Hollywood film treatment by director Terry Gilliam, starring Johnny Depp as Thompson, alias "Raoul Duke," and Benicio Del Toro as his sidekick "Dr. Gonzo."
Fear and Loathing
walks a fine line between fact and fiction. Ostensibly a retelling of Thompson's excursion to Las Vegas to write captions for the Mint 400 motorcycle and the National District Attorneys Association's Conference on Narcotics and Dangerous Drugs, the narrative frequently delves into surreal digressions and drug-induced hallucinatory fugues. These colorful passages earned the novel praise as the one of the most hilarious, original and mind-bending works of 20th-century American literature, frequently drawing comparisons with Burroughs' Naked Lunch and Mailer's An American Dream. Steadman's ink illustrations depicting the nightmarish scenes both real and imaginary have become perhaps even more recognizable and ubiquitous than the novel itself.
Any summary of the plot of
Fear and Loathing
will hardly do justice to the complex narrative that demands multiple readings to unravel the enigmas and allusions contained within. The book opens with Raoul and Gonzo en route to Las Vegas, the trunk of their car looking like a "mobile police narcotics lab. Both having recently ingested unsafe amounts of psychoactive substances, and the following sequence of events, in which Raoul hallucinates "an array of bats" and the couple pick up an unsuspecting hitchhiker, gives the reader a clear indication of the wild ride they are in for.
SPOILER ALERT
After the duo arrive in Las Vegas, their attempt to cover the motorcycle race and drug conference quickly goes off the rails, and a constant infusion of uppers, downers, pills and potions fuels the author's half serious pursuit for the "American Dream," or in the absence of that, some sort of explanation for the cultural decay precipitated by Timothy Leary's "Turn on, tune in, drop out" countercultural movement. Raoul and Gonzo find themselves caught up in a web of police, gamblers, drug dealers, racers and hitchhikers that embodies the seamy underbelly of Las Vegas, and by extension modern America.
END SPOILERS
At its best moments, the novel manages to simultaneously celebrate and critique and the culture of drug-addled decadence that swallowed up Thompson's glory years. Its greatest success lies in how it successfully induces in the reader the same mental state experienced by the heavily intoxicated protagonists while painting an accurate picture of the cultural and political landscape of the late 1960s from a highly personal yet still detached perspective.
Fear and Loathing
isn't the easiest book to read—especially if you aren't familiar with the work's convoluted backstory—but is well worth the effort for those interested in the '60s drug culture, modern journalism, American politics, or experimental fiction in general. The 1998 Gilliam adaptation is slightly more accessible than the book, and can provide additional visual corroboration to the excellent Steadman illustrations in decoding some of the more outré drug riffs.
Fear and Loathing
will shock, anger, and perhaps even repel you, but the emotional core underlying the work ensures that you will be thinking about it long after you've put it down.
Karl Wallullis
is a guest blogger for
My Dog Ate My Blog
and a writer for Guide to Online Schools.
Fear and Loathing in Las Vegas
by Hunter S. Thompson
Description: First published in "Rolling Stone" magazine in 1971, "Fear and Loathing in Las Vegas" is Hunter S. Thompson's savagely comic account of what happened to this country in the 1960s. It is told through the writer's account of an assignment he undertook with his attorney to visit Las Vegas and 'check it out.' The book stands as the final word on the highs and lows of that decade, one of the defining works of our time, and a stylistic and journalistic tour de force.
(from Barnes & Noble)
Fear and Loathing in Las Vegas
is available for purchase at major booksellers, including
Amazon
.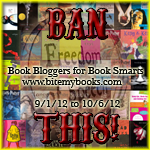 Fear and Loathing in Las Vegas
has been challenged or banned by persons who object to its offensive language, disrespect for religious, political and legal authority, and sexually explicit and emotionally disturbing scenes, including rampant drug and alcohol use and violence. Let's celebrate
Fear and Loathing in Las Vegas
, among other works, as well as our right to read them!

Thank you, Karl, for stopping by and sharing with us your well expressed and vivid review of
Fear and Loathing in Las Vegas
. I hope that my readers will check out other wrirtings by Karl through the links above.
Readers, do you agree with Karl's review?
I have not read
Fear and Loathing
myself but I do think if a book has you considering it long after you have put it down, even if your mind is peppered with thoughts of repulsion and anger, as Karl noted, it's either a book with good writing and/or a good story. And isn't that what we bibliophiles adore?