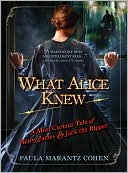 Description: Under Certain Circumstances, No One Is More Suited to Solving a Crime than a Woman Confined to Her Bed.
An invalid for most her life, Alice James is quite used to people underestimating her. And she generally doesn't mind. But this time she is not about to let things alone. Yes, her brother Henry may be a famous author, and her other brother William a rising star in the new field of psychology. But when they all find themselves quite unusually involved in the chase for a most vile new murderer-one who goes by the chilling name of Jack the Ripper-Alice is certain of two things:
No one could be more suited to gather evidence about the nature of the killer than her brothers. But if anyone is going to correctly examine the evidence and solve the case, it will have to be up to her.

I was absolutely thrilled to be asked to read and review Paula Marantz Cohen's new novel,
What Alice Knew
, as I have read nearly every book (nonfiction and fiction) about Jack the Ripper I can get my hands on and I enjoy certain aspects of the Victorian era.
I was not disappointed by this marvelous book, which alternated between darkness and stinging intelligence but always remained descriptive. Ms. Cohen brought to life the bleak disparity between the lucky (the upper class) in London and abject (below working class poor ) residing in Whitechapel of 1888. Turning each page, I could detect the slight lavender from a well to do gentleman's handkerchief, to the aroma of a nice beef bouillon soup and then, just as quickly, the heavy scent of drink and hopeless despair from the squalid streets and back alleys. So vivid were her words that I could easily picture each chapter and event as though I were watching a film, or as if Ms. Cohen were describing such occurrences from memory.
Ms. Cohen takes real persons of note, such as Henry James, William James, Alice James, Oscar Wilde and John Singer Sargent, but to name a few, and spins a fascinating, complex novel. Reading
What Alice Knew
, it was relatively easy to forget I was reading a work of fiction, based upon actual persons, and not an exact accounting of a horrible season in London in 1888.
Taking on real life persons can be a risky business, nevermind the as-yet officially unidentified Jack the Ripper. Ms. Cohen does so with aplomb. I was fascinated with how she wove her literary web surrounding this black figure and more than pleased and satisfied with how she resolved the mystery.
In all, I thoroughly enjoyed
What Alice Knew
and found it surpassed my expectations. So good and engrossing was the read that I handily zipped through it in just over 2 days and it left me wanting to read more books of the period, including those of central character Henry James himself.
If you like period dramas, mysteries and thrillers and fictional takes on the infamous Jack the Ripper, I encourage you to pick up this book. You won't be sorry.
What Alice Knew
is available for preorder now and will hit bookstores on September 7, including
Amazon
.
For more information on author Paula Marantz Cohen, please visit her website
HERE
.
Review copy of this book provided by the publisher in exchange for a fair and honest review. In no way did the provision of the book affect the outcome of my review.
This book qualifies toward my
Thriller & Suspense Reading Challenge
, as well as my
R.I.P. Reading Challenge
.