Flowers in the Attic
by V. C. Andrews
Originally published in 1979
Description: It was a case of tender, loving murder.
The four children had perfect lives. They lived in a golden family filled with happiness. But their father dies suddenly, their mother throws themselves on the mercy of her parents - who had disowned her long ago.
Their mother promised they would stay only long enough to inherit the fortune. But gradually she forgot how much she adored her family. Kept hidden in the airless attic, the children now lived alone except for fleeting visits from their mother. Visits that became increasing infrequent... and increasily deadly...
Flowers in the Attic: the compelling story of a family's betrayal and heartbreak, love and revenge.
(from Goodreads)

Flowers in the Attic
was the first adult fiction series book that I remember reading. It was on the bestseller shelf of every bookstore and most girls in my high school were reading it, so I decided to give it a try. I was hooked from the first page.
Flowers
is the story of Cathy, Chris, Cory and Carrie - - four children living the "perfect" life with their golden parents, until their father is killed in a car accident and, penniless, their mother is forced to return home to the parents that disowned her years ago for marrying the children's father. The twist? The parents, particularly the Grandmother, are bitter, zealously religious and glad that their daughter's husband is dead. While the Grandmother knows about the children, the grandfather apparently does not, and in order for their mother to inherit her family's estate (the monstruous Foxworth Hall) and riches, she must pretend that she is childless. Hence, the plan - - the children will stay in the attic of one wing of the massive Foxworth Hall, in hiding, waiting for the ill grandfather to die and leave their mother everything.
As with most well-intentioned plans, everything goes awry. What was originally going to be just for a few days, a few weeks or a few months turns into three years. The mother changes before her children's eyes - - becoming materialistic, selfish and gradually distancing herself from them. The Grandmother despises them and employs harsh corporal punishment on them simply for existing, and reminds them daily that they were brought about by sin, according to the Bible, and are evil.
Most importantly, Chris and Cathy are allowed to grow up together, with only each other, in a single room. Not surprisingly, they fall in love with each other.
How long will they have to wait for the grandfather to die before they are freed? Will the Grandmother ever love them? Accept them? Why won't their mother just leave, with them? Do they have to inherit the money? What is going to happen to them, if Chris is in love with Cathy?
Flowers
is not a masterpiece of literature - - far from it - - nor is it a trashy dime-store novel. The story is engrossing, the main characters endearing. The pain and suffering of the children, particularly Chris and Cathy, and their longings jump off every page. The horror of what greed and materialism can do is shocking.
Where
Flowers
is the weakest is in the writing. Its not completely shabby but don't open the first page expecting to find Dickens. What you will find is a compelling story, the late 70s/early 80s equivalent of
Twilight
.
Flowers
is a great beach or vacation read. Be warned - - once drawn in, you will be investing in the other books in the series (four not including
Flowers
).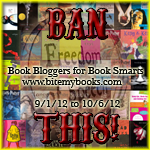 Flowers in the Attic
has been challenged or banned due to its "offensive passages concerning incest" and for its explicit sexual content. Let's celebrate
Flowers in the Attic
, among other works, as well as our right to read them!
FTC Disclosure: I purchased this book at a local bookstore. I was neither compensated nor paid in any way for this review.