Throwback Thursday
is where I will be highlighting a book or movie that I have previously read or viewed. Today's Throwback is . . .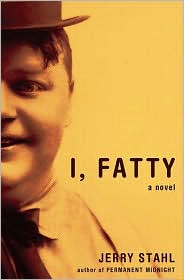 I, Fatty
by Jerry Stahl
Originally published in 2004
Description: Abandoned as a boy in Kansas, Roscoe "Fatty" Arbuckle found adulation first in vaudeville, and then in the new medium of the cinema. In his day, during the second decade of the 1900s, Fatty was more popular than Chaplin; he became the first screen actor to make a million dollars a year. But in 1921 he was accused of the rape and murder of actress Virginia Rappe, whom he encountered at a party in San Francisco and who died a few days later. Though he was eventually acquitted by a unanimous jury, the virulent speculation by the press ultimately destroyed Arbuckle's career. Framed for a crime he didn't commit, and demonized by conservative powers that hyped the case as emblematic of all the evils of show business, Fatty Arbuckle was the first modern celebrity whose presumed guilt - and alleged innocence - galvanized a nation.
In I, Fatty, Jerry Stahl, the author of Permanent Midnight, tells the story from Fatty's own perspective. This is a portrait of a comic genius whose rise and fall set the precedent for the scandals that still shake Hollywood today.
(from Goodreads)

I, Fatty
by Jerry Stahl brings some much deserved notice and attention to Roscoe "Fatty" Arbuckle, one of the greatest silent film comics to ever grace the screen.
Stahl has written a fictionalized account of Roscoe's reminiscing over his life, the beginning, the ups and downs and the tremendous fall he took for a crime he didn't commit, and Hollywood turning its back on its once Golden Boy.
Stahl's writing is fresh, funny, tragic and full of appropriate terms and slang for the early 20th century. You'll relive the glory days of early cinema, before income taxes, before world war, when actors, although considered lowly, were still gods and goddesses of their universe. As a reader, you will become entranced by Roscoe's story, even fictionalized - - this big man, so full of talent and yet lacking self-esteem, giving so much to the industry and becoming their censorship scapegoat.
But at the same time, it is clear this is a work of fiction. Roscoe Arbuckle was never a heroin addict. And this one creative license puts a slight taint on the whole tale, lest Mr. Arbuckle be remembered as a poor heroin addict. At least Mr. Stahl makes it clear that Mr. Arbuckle was an innocent victim in Virginia Rappe's death.
Overall, this book was a pleasure to read, despite the heroin allegations. Real gems from the silent era, such as Mabel Normand, Buster Keaton, Charlie Chaplin, Joseph Schenck, Mary Pickford, Douglas Fairbanks, Gloria Swanson and even Bob Hope come alive in the pages. It's a quick and easy read and worth every moment spent turning the pages. Even knowing the sad outcome of Mr. Arbuckle's career and life after that Labor Day of 1921, the book will still keep you anxious to turn the page and read on.
Hopefully this book will help to shed light on the previously untapped genius of Roscoe Arbuckle, and give him some well deserved new fans.
Recommended for fans of the golden age of Hollywood and 1920s buffs.
FTC Disclosure: This book was borrowed from my local public library. I was neither compensated nor paid in any way for this review.
For a generous helping of information on Roscoe "Fatty" Arbuckle, please visit the spectacular site
Arbucklemania: The Official Roscoe "Fatty" Arbuckle Website
.
I find this Throwback review timely, as this weekend will be the 89th anniversary of the infamous Labor Day weekend party in San Francisco, as well as bringing attention to Arbuckle, who was banned in his day (albeit for his films), during the month-long
Ban This
!
Roscoe C. Arbuckle
March 24, 1887 - June 29, 1933