Mailbox Monday
is the gathering place for readers to share the books that came into their house during the previous week. Warning:
Mailbox Monday
can lead to envy, toppling TBR piles and humongous wish lists!
Mailbox Monday
, which was started by Marcia at
The Printed Page
, is on blog tour—and Avis at
she reads and reads
is hosting during the month of October.
My first read is
Beyond Justice
by
Joshua Graham
which I received from Pump Up Your Book Promotions and the author for a blog tour and review.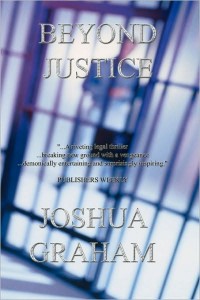 Synopsis: THE DESCENT INTO HELL IS NOT ALWAYS VERTICAL... Sam Hudson, a reputable San Diego attorney, learns this when the authorities wrongfully convict him of the brutal rape and murder of his wife and daughter, and send him to Death Row. There he awaits execution by lethal injection. If he survives that long. In prison, Sam fights for his life while his attorney works frantically on his appeal. It is then that he embraces the faith of his departed wife and begins to manifest supernatural abilities. Abilities which help him save lives- his own, those of his unlikely allies-and uncover the true killer's identity, unlocking the door to his exoneration. Now a free man, Sam's newfound faith confronts him with the most insurmountable challenge yet. A challenge beyond vengeance, beyond rage, beyond anything Sam believes himself capable of: to forgive the very man who murdered his family, according to his faith. But this endeavor reveals darker secrets than either Sam or the killer could ever have imagined. Secrets that hurtle them into a fateful collision course. BEYOND JUSTICE, a tale of loss, redemption, and the power of faith.
The second book I received was
The Naked Gardener
by
L B Gschwandtner
which I received from Book Sparks PR and the author for a blog tour and review.
Synopsis: In a remote forest of northern Vermont, Katelyn Cross takes five women on a wilderness canoe trip where they hope to come up with ideas for saving their dying town. Although the river is not always what it seems and the women have not left their problems behind, a painting ritual creates a new way to look at the world - and themselves. Artist Katelyn Cross loves Greg Mazur and he loves her. He wants to be married but a previous relationship that went sour has made Katelyn overly cautious about any permanent commitment. And what about Greg's first wife? He lost her to cancer and Katelyn worries that he's only looking for a replacement. What's a girl to do? Canoe down a river with five gal pals, camp out, catch fish, talk about life and men. The problem is, a river can be as unpredictable as any relationship and just as hard to manage. On their last day, when the river turns wild, the women face the challenge of a lifetime and find that staying alive means saving themselves first while being open to help from a most unlikely source. As Katelyn navigates the raging water, she learns how to overcome her fear of change in a world where nothing stays the same. When Katelyn returns to her garden, she'll face one more obstacle and the naked gardener will meet the real Greg Mazur.
That is my
Mailbox Monday
! What goodies arrived in your mailbox this week?