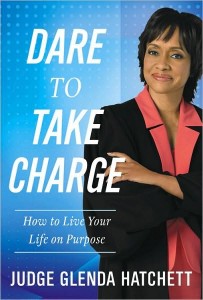 Description: For nearly ten years, Judge Glenda Hatchett has delighted TV audiences with a brand of justice that turns the everyday into something eminently watchable.
Her message can be distilled into the following two words: Dare Yourself. Whatever obstacles or fears one faces, Judge Hatchett's prescription implores readers to write their own story in this life. With care and conviction, Judge Hatchett uses real life stories from the courtroom and her personal life to counsel readers. Shows them how to find their true purpose and gifts, to be real about their reality and its potential outside of challenging circumstances, and to always be true to themselves.
Interactive as well as inspirational, DARE TO TAKE CHARGE challenges the reader to ask self-reflective questions that lead to moments of self-discovery and a defined pathway to healing. Daring her audience to study the positive with the same interest and intensity that they study the negative, Judge Hatchett uncovers the potential for grace and success in lives that are now punctuated with despair and unfaithfulness.
I am a fan of Judge Glenda Hatchett and have spent many an hour watching her televised courtroom while munching on a sandwich, so when I was given the opportunity to read and review Judge Hatchett's new book,
Dare to Take Charge
, I happily jumped at it.
The Judge Hatchett I saw on television - - the warm, caring, maternal, "I expect greatness" strong Southern woman - - is readily apparent in the pages of this book. If you have ever watched her on television, you will easily hear her voice in each chapter as she shares the pearls of wisdom she has gleaned not only from family and being a mother but from her years on the bench.
Judge Hatchett shares cases she had while working as a Fulton County Juvenile Court judge but also personal stories about her childhood and how she went from Delta in-house counsel to judge, with marriage and motherhood in between. I really liked Judge Hatchett's "can do" very positive attitude; when faced with the most adverse situations in her courtroom she still expects greatness. Her bright outlook, inherited honestly from her grandmother, has altered many people's lives for the better and hopefully, with this book, will continue to inspire and better others.
Each chapter is straightforward and kept to a relatively brief and succinct length. At the end of each chapter, Judge Hatchett has included journal pages so that the reader can write his or her own thoughts and progress. She doesn't preach and she doesn't talk down to her readers; reading her book is akin to having a heartwarming chat with a girlfriend.
This book could also have been titled "Dare to Make Change" as some of the advice Judge Hatchett shares, particularly relationship advice, would be helpful and encouraging for readers looking to make a change. While some of the career advice could be considered somewhat generic, I believe the sections on personal relationships are the strongest in the book.
I wouldn't hesitate to recommend this book to fans of Judge Glenda Hatchett, or someone looking for material to help with changes and life decisions, be it career, relationships or simple fulfillment. As Judge Hachett herself writes: "Our blessings are meant to be shared."
Dare to Take Charge
is available for purchase now at major booksellers, including
Amazon
. I am an Amazon affiliate. If you make a purchase through my link, I will receive a small commission.
For more information about Judge Glenda Hatchett, please visit her
website
, her social networking site for parents and influencers of children,
ParentPowerNow
, on her
Facebook
page and on
Twitter
.
Review copy of this book provided by the author in exchange for a fair and honest review. In no way did the provision of the book affect the outcome of my review.
Thanks to Dorothy Thompson at Pump Up Your Book Promotion for the opportunity to participate in this blog tour.