Mailbox Monday
is the gathering place for readers to share the books that came into their house during the previous week. Warning:
Mailbox Monday
can lead to envy, toppling TBR piles and humongous wish lists!
Mailbox Monday
, which was started by Marcia at
The Printed Page
, is on blog tour—and Julie at
Knitting and Sundries
is hosting during the month of November.
The first item I received was
The Remains
by
Vincent Zandri
, which I received from Pump Up Your Book Promotions for a blog tour.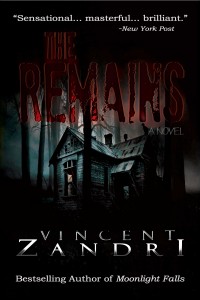 SYNOPSIS: Thirty years ago, teenager Rebecca Underhill and her twin sister Molly were abducted by a man who lived in a house in the woods behind their upstate New York farm. They were held inside that house for three horrifying hours, until making their daring escape. Vowing to keep their terrifying experience a secret in order to protect their mother and father, the girls tried to put the past behind them. And when their attacker was hunted down by police and sent to prison, they believed he was as good as dead. Now, it s 30 years later, and with Molly having passed away from cancer, Rebecca, a painter and art teacher, is left alone to bear the burden of a secret that has only gotten heavier and more painful with each passing year. But when Rebecca begins receiving some strange anonymous text messages, she begins to realize that the monster who attacked her all those years ago is not dead after all. He s back, and this time, he wants to do more than just haunt her. He wants her dead.
The second item I received last week was
Thr3E
by
Ted Dekker
which I received from Hachette Book Group for review.
SYNOPSIS: Enter a world where nothing is what it seems. Where your closest friend could be your greatest enemy.
Kevin Parson is driving his car late one summer day when, suddenly, his cell phone rings. A man who identifies himself as Slater speaks in a breathy voice:
You have exactly three minutes to confess your sin to the world. Refuse, and the car you're driving will blow sky high.
Kevin panics. Who would make such a call? What sin? Kevin ditches the car. Precisely three minutes later, a massive explosion sets his world on a collision course with madness.
From the #1 best-selling fiction author comes a powerful story of good, evil, and all that lies between.
That is my
Mailbox Monday
. What goodies arrived in your mailbox last week?