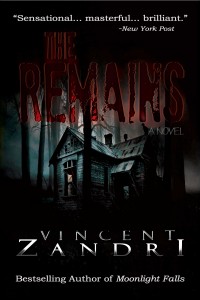 Book Description: Thirty years ago, teenager Rebecca Underhill and her twin sister Molly were abducted by a man who lived in a house in the woods behind their upstate New York farm. They were held inside that house for three horrifying hours, until making their daring escape. Vowing to keep their terrifying experience a secret in order to protect their mother and father, the girls tried to put the past behind them. And when their attacker was hunted down by police and sent to prison, they believed he was as good as dead. Now, it s 30 years later, and with Molly having passed away from cancer, Rebecca, a painter and art teacher, is left alone to bear the burden of a secret that has only gotten heavier and more painful with each passing year. But when Rebecca begins receiving some strange anonymous text messages, she begins to realize that the monster who attacked her all those years ago is not dead after all. He s back, and this time, he wants to do more than just haunt her. He wants her dead.
There are very few books today that I can honestly open up and read in one sitting.
The Remains
is one of those books. This book will draw you in from the first page, grab ahold of you and won't let go until the last word.
The plot is a fantastic one, with a 30 year old crime coming back to haunt central character Rebecca in the form of nightmares, flashbacks and text messages. The build up is done expertly and with author Vincent Zandri's subtle hand, making for some suspenseful reading and a few unexpected twists.
The Remains
is also a horror story, slightly akin to Stephen King as Mr. Zandri expertly weaves together psychological terror but Mr. Zandri also has a restrained and even crafty touch. His terror doesn't show itself freely in the mirror or window but rather whispers ominously in your ear.
I was fulfilled by Mr. Zandri's writing style, which was direct and to the point, without being brutal, and descriptive enough without being considered flowery prose. Story points were intertwined without being farfetched and I liked the relatively liberal use of flashbacks throughout the story, enlightening the reader bit by bit on what Rebecca was facing. As she remembered or learned what she was up against, so did we.
Rebecca herself was a brilliant heroine, a smart and savvy professional who is over forty, who is not stunningly beautiful and yet doesn't know it and she doesn't put herself in harm's way out of ignorance or flat out stupidity. In other words, she's a woman that is easy to relate to and effortless to support. I felt her uneasiness in the book and felt that uneasiness turn into fear. I was sad with her, afraid with her and relieved with her.
Even the cover of the book ties together nicely, being stunning and appropriately creepy.
The only downsides to
The Remains
(and there were only two brief ones) were that Rebecca's friend Robyn seemed to have an interesting potential sideline story that was either not fully developed or somewhat dropped - - which may have been just my viewpoint and opinion - - and the handful of misspellings and typos that I noticed in the book. I am a stickler for accuracy and misspellings and typos drive me absolutely crazy. Fortunately,
The Remains
is such a solid, well-told story that I was able to overlook the mistakes and enjoy the thrilling ride.
This was the first book I have read by author Vincent Zandri but based on this book, it won't be the last. He is most certainly an author to watch.
The Remains
is available for purchase now at major booksellers, including
Amazon
. I am an Amazon affiliate. If you make a purchase through my link, I will receive a small commission.
For more information on author Vincent Zandri, please visit his
website
,
blog
,
Facebook
page, or follow him via
Twitter
.
The Remains
counts toward my progress in the
THRILLER & SUSPENSE READING CHALLENGE
.
Please be sure to check out
Night Owl Reviews
, where Vincent Zandri is guest blogging today and follow the virtual tour for
The Remains
at the below stops:
Wednesday, December 15: Book review at
The Book Faery Reviews
Book review at
Donna's Blog Home
Thursday, December 16: Book review and interview at
As I Turn the Pages
Book review at
Proud Book Nerd
Book review at
Colloquium
Review copy of this book provided by the author and Pump Up Your Book Promotions in exchange for a fair and honest review. In no way did the provision of the book affect the outcome of my review.