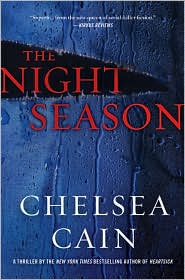 BOOK DESCRIPTION: With Beauty Killer Gretchen Lowell locked away behind bars once again, Portland detective Archie Sheridan can finally rest. Meanwhile, the city of Portland is in crisis. Several people have drowned in heavy rains that have flooded the Willamette River. But the medical examiner discovers that in fact the latest victim was poisoned before she went into the water—she didn't drown. A little detective work shows that so far three of those previously thought to be accidental drownings have actually been murdered. Portland has a new serial killer on its hands, and Archie and his task force have a new case. Meanwhile reporter Susan Ward is following up on an entirely separate mystery: the dramatic flooding has unearthed a skeleton, a man who might have died during catastrophic flooding more than sixty years ago that washed away an entire neighborhood and killed at least 15 people.
As Archie follows the bizarre trail of evidence and evil deeds to catch his killer, he has to battle the rising waters of the Willamette first.
This is the fourth book in author Chelsea Cain's Gretchen Lowell/Archie Sheridan series. If you haven't read any of the previous books, I suggest you pick them up immediately. Cain writes with an intoxicating intensity and if you are addicted to thrillers, she will not disappoint.
In
The Night Season
, devotees of Gretchen Lowell and/or Archie Sheridan will not be let down, despite the relative absence of the sociopathic serial killer Gretchen. I will admit that initially upon beginning this book, and hearing that Gretchen would be MIA, I felt it would be the weak book in the series and something massive would be missing from the novel. I was wrong.
The background of the story - - a 1948 flood - - which sets the stage for the present day killer is fascinating and a wonderfully original concept. It doesn't follow the literary path previously blazed by Cain and in the same fashion, the violence level is much lower and the book itself is less gruesome.
Earlier books in the series were disturbing mainly due to Gretchen's presence and her cruel need to torture and kill, but
The Night Season
derives its creepiness not so much from the unknown killer but from Portland's rising waters and the imminent danger it proposed. In fact, Mother Nature proves to be a far more frightening killer in this book. I admit to feeling uneasy and unnerved by the potential drowning factor of the book.
In this respect, Cain is a master storyteller. She draws you in seductively and completely engrosses you in her tale. The characters come alive and Portland itself it as much a central character as Archie, Susan and Henry. Even Gretchen, absent for all intents and purposes, remains a driving force in the book. Archie Sheridan is again the heart and center of the story, a stalwart presence. Susan Ward, the intrepid reporter was a character that had been borderline annoying for me in Cain's debut novel, is much more focused and relevant to the story.
The Night Season
grabbed me from the first page and refused to let go until I had hungrily read the last word - - and finishing the book was a letdown because I simply didn't want to leave the story behind. For readers of mysteries and thrillers, I would not hesitate to recommend
The Night Season
. If you haven't read the earlier books in the series, have no fear -
- The Night Season
can be read as a stand alone book with no real knowledge of the first three books. Be prepared to count the days until Cain's next book - - I know I am.
The Night Season
is available for preorder from major booksellers, including
Amazon
. It will be released in March, 2011. I am an Amazon affiliate. If you make a purchase through my link, I will receive a small commission.
For more information on author Chelsea Cain, please visit her
website
.
Review copy of this book provided by
Crazy Book Tours
in exchange for a fair and honest review. In no way did the provision of the book affect the outcome of my review.