BOOK DESCRIPTION:
In love and war, nothing is as it seems . . .
Chicago, 1944. Liz Stephens has little interest in attending a USO club dance with her friends Betty and Julia. She doesn't need a flirtation with a lonely serviceman when she's set to marry her childhood sweetheart. Yet something happens the moment Liz glimpses Morgan McClain. They share only a brief conversation - cut short by the soldier's evident interest in Betty - but Liz can't forget him. Thus, when Betty asks her to ghostwrite a letter to Morgan, stationed overseas, Liz reluctantly agrees.
Thousands of miles away, Morgan struggles to adjust to the brutality of war. His letters from "Betty" are a comfort, their soul-baring correspondence a revelation to them both. While Liz is torn by her feelings for a man who doesn't know her true identity, Betty and Julia each become immersed in their own romantic entanglements. And as the war draws to a close, all three will face heart-wrenching choices, painful losses, and the bittersweet joy of new beginnings.
As I write this, I have finished Kristina McMorris' debut novel
Letters from Home
less than two hours ago and my mind is swimming with many thoughts - - thoughts of the characters, thoughts of the true story that inspired this book, thoughts of what daily life must have been like during World War II and thinking that one word to adequately describe this book would be "magnificent".
Letters from Home
is that rare melding of romantic historical fiction told partly through letters, with three main characters - - each of them different and yet my heart yearned for each of them. What is so wonderfully rare about
Letters from Home
is that is succeeds on every front - - as a nostalgic historical fiction, as a fictional recounting of World War II (told from the homefront and from the battlefield) and as a good old fashioned romantic tearjerker.
I loved the wistfulness I felt while reading
Letters from Home
, a yearning for a so-called simpler time when love at first sight was not only believable but expected and when letter writing was the sole means of contact for those men and women serving our country. And therein lies the basis for this book - - an altered take on
Cyrano De Bergerac,
where one girl writes romantic letters for and as her roommate. In this tale, those aspects come together perfectly. The letters absolutely made my heart ache and I looked forward to those pages that were devoted to them. Rather than slowing down the story, or halting it entirely, as can happen when a story is told, at least in part, through letters, they added an exciting and creative dimension to an already moving story.
I fell in love with each of these characters and became utterly invested in them. While reading about Liz, I was so wrapped up in her story I didn't want to let go of her, even briefly, to change gears and move on to Betty but once I got with Betty, I was so wrapped up with her that I didn't want to leave her behind to take up with Julia. It was a so-called vicious circle in a wonderfully delightful way.
The supporting characters were just as enthralling and real as the main characters in the book. I easily visualized Morgan, proud and determined, in his Army uniform, as well as his younger brother Charlie, cutting up and going for the easy laugh. Betty's Coconut Grove and her female coworkers as well came alive for me; so real were they I could feel the humidity of Hollandia, hear the insects outside, the scratchy radio inside and taste Herb's contraband Jungle Juice.
Letters from Home
is such a complete and well written story it's hard to imagine it is author Kristina McMorris' debut novel. The writing is so smooth and fluid, it's like butterscotch, to semi-quote character Julia. There is just enough historical description to make you feel as though you have stepped back into 1944-1945 and enough romance and true feeling to make your heart flutter and ache without withering from a literary sugar shock.
Despite portions dealing with the brutalities of war,
Letters from Home
is not violent nor gruesome. There is no offensive language and the only true intimacy and eroticism comes from two souls being laid bare through their letters.
To say that I fell in love with this book, its characters, the story and Kristina McMorris' writing would be a vast understatement. I did not want to put this book down and was both fufilled and saddened upon concluding it. The ending left me with a bit of conflict - - happy for the obvious ending for one character and the suggested endings for the others but desperately hoping that Ms. McMorris could somehow write a sequel so that I could continue this on-pages relationship with characters that I had come to care about and adore.
This is, without a doubt, one of the most touching romances you can read and absolutely one of the best books of the year. Do not hesitate when I tell you to the go to the bookstore. Now.
Letters from Home
is worth it. Trust me.
Letters from Home
is is available for purchase now at major booksellers, including
Amazon
. I am an Amazon affiliate. If you make a purchase through my link, I will receive a small commission.
For more information on author Kristina McMorris, please visit her
website
.
Review copy of this book provided by the author in exchange for a fair and honest review. In no way did the provision of the book affect the outcome of my review.
Many thanks to Dorothy Thompson of
Pump Up Your Book
for the opportunity for Psychotic State Book Reviews to be a host on this tour.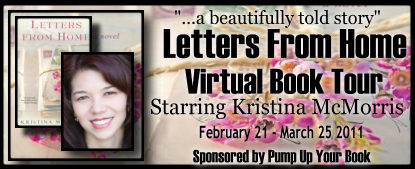 Excerpt from Letters from Home:
July 4, 1944
Chicago, Illinois
Silence in the idling Cadillac grew as suffocating as the city's humidity. Hands clenched on her lap, Liz Stephens averted her narrowed eyes toward the open passenger window. Chattering ladies and servicemen flocked by in the shadows; up and down they traveled over the concrete accordion of entrance steps. The sting of laughter and music drifted through the swinging glass doors, bounced off the colorless sky. Another holiday without gunpowder for celebration. No boom of metallic streamers, no sunbursts awakening the night. Only the fading memory of a simpler time.
A time when Liz knew whom she could trust.
"You know the Rotary doesn't invite just anyone to speak," Dalton Harris said finally. The same argument, same lack of apology in his voice. "What was I supposed to do? Tell my father I couldn't be there because of some dance?"
At the condescension, she snapped her gaze to his slate gray eyes. "That," she said, "is exactly what you should've done."
"Honey. You're being unreasonable."
"So it's unreasonable wanting us to spend time together?"
"That's not what I meant." A scratch to the back of his neck punctuated his frustration, a habit that had lost the amusing charm it held when they were kids. Long before the expensive suits, the perfect ties, the Vitalis-slickening of his dark brown hair.
"Listen." His square jaw slackened as he angled toward her, a debater shifting his approach. "When I was asked to run my dad's campaign, we talked about this. I warned you my schedule would be crazy until the election. And you were the one who said I should do it, that between classes and work, you'd be -"
"As busy as ever," she finished sharply. "Yes. I know what I said." With Dalton in law school and she a sophomore at Northwestern, leading independent but complementary lives was nothing new; in fact, that had always been among the strengths of their relationship. Which is why he should know their separate activities weren't the issue tonight.
"Then what's the problem?" he pressed.
"The problem is, anything else pops up, campaign or otherwise, and you don't think twice about canceling on me."
"I am not canceling. I'm asking you to come with me."
Liz had attended enough political fundraisers with him to know that whispers behind plastered smiles and greedy glad-handing would be highlights of the night. A night she could do without, even if not for her prior commitment.
"I already told you," she said, "I promised the girls weeks ago I'd be here." The main reason she'd agreed, given her condensed workload from summer school, was to repay Betty for accompanying her to that droning version of Henry V last week – just so Dalton's ticket hadn't gone to waste. "Why can't you make an exception? Just this once?"
He dropped back in his seat, drew out a sigh. "Lizzy, it's just a dance."
No, it's not. It's more than that. I have to know I can depend on you! Her throat fastened around her retort. Explosions of words, she knew all too well, could bring irreversible consequences.
She grabbed the door handle. "I have to go." Before he could exit and circle around to open her side, she let herself out.
"Wait," he called out as she shut the door. "Sweetheart, hold on."
The plea in his voice tugged at her like strings, halting her. Could it be that he'd changed his mind? That he was still the same guy she could count on?
She slid her hand into the pocket of her ivory wraparound dress, a shred of hope cupped in her palm, before pivoting to face him.
Dalton leaned across the seat toward her. "We'll talk about this later, all right?"
Disappointment throbbed inside, a recurrent bruise. Bridling her reaction, she replied with a nod, fully aware her agreement would translate into a truce.
"Have a good time," he said, then gripped the steering wheel and drove away.
As she turned for the stairs, she pulled her hand from her pocket, and discovered she'd been holding but a stray thread. The first sign of a seam unravelling.