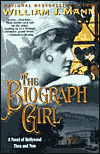 BOOK DESCRIPTION: Grab your seat for a wild roller-coaster ride through the 20th century, led by a sassy, chain-smoking 107-year-old actress named Florence Lawrence. From her vaudeville childhood as "Baby Flo, The Child Wonder Whistler" to the snowy Bronx backlot where she shot her first motion picture, the lovely Florence Lawrence commanded - and demanded - attention. By 1910, she was the legendary, enigmatic Biograph Girl, hounded by shrieking fans and blinding flashbulbs - the world's very first movie star.
Yet, inevitably, the rabid interest in her faded - far too soon for a girl whose true identity had been lost amidst the glamorous trappings of Hollywood's glowing dawn. Reduced to MGM walk-on roles, a bedraggled, forgotten Florence Lawrence finally ended her life in 1038 with a lethal ingestion of ant paste.or did she?
Sixty years later, the fiercely competitive Sheelan twin brothers, Richard and Ben, discover a feisty, mysterious old lady named Flo Bridgewood telling tales of the McKinley assassination and the sinking of the Titanic. The twins share little more in common than identical features and a burning ambition to succeed. Muscular golden boy Richard is a gay journalist with too many credit cards and an unproduced screenplay in his drawer. Rebellious Ben is a notorious womanizer and independent filmmaker be his ticket to fame. Neither suspects that chance meeting is about to launch them into a mystery-shrouded journey that spans not just an entire century, but one woman's remarkable life - and supposed death.
But what of the girl they buried in 1938, whom the Beverly Hills Hospital identified as Florence Lawrence? What was Flo's connection to her death? The questions begin to mount. How - and why - did Flo stage her own death sixty years before? What other secrets does The Biograph Girl hold - and will her current turn in the spotlight end with the same kind of tragedy as the last?
The Biograph Girl is truly a chronicle of the 20th century - a sweeping epic packed with history, wisdom, humor, passion, and the golden age of movies
Let me get right to the point.
The Biograph Girl
was a delight to read. I loved it from the first page to the last. Of course the subject matter was right up my alley - - - classic Hollywood (the 1910s and 1920s are the bulk of the flashback story here), glamorous ladies, fashions, fashions, fashions, the movies and a mystery. How can you possibly go wrong?
Author William J. Mann, who also penned the sharp nonfiction biography
Wisecracker
, simply does not. He nails the character of Florence Lawrence, who was indeed the world's first movie star, and events from her actual life - - including her unusual death in 1938 from ant paste - - and manages to create a solid, entertaining and historically accurate book.
I loved the character of Florence, especially Florence as a 107 year old wisecracking and smoking lady who still has a razor sharp mind and the guts to speak it. I could easily envision her, painted fingernails, caftan and all. Mr. Mann created a wonderful character and it did give me pause to think if the real Florence Lawrence had lived, would she have been the delightfully acerbic centenarian that he penned?
The side story of brothers Richard and Ben were almost filler to me, as I adored Flo so much. They had an interesting background and it made for a good plot point but I was always happy to get back to Flo current day and Flo in the past.
I really enjoyed the "what if" nature of
The Biograph Girl
and the fascinating turn of events that Mr. Mann spun in order to allow Florence Lawrence, the movie star, to die and Flo Bridgewood to live. Since urban legend and suppositions have been spun for years about many public figures and celebrities (Garbo, Elvis, Jim Morrison, even Jimmy Hoffa) it's a unique take on the public's fascination with escaping and/or faking death.
The Biograph Girl
isn't an official biography, although it does detail many real life events and aspects of Florence Lawrence's life, including her background, rise to fame and her marriages, as well as her topple from stardom. If nothing else, Mr. Mann's book gives a voice to the real Florence Lawrence and allows a new generation to understand why she exploded into stardom and, just as quickly, fell from Hollywood's graces.
For readers who obsess over Hollywood as much as I do, as well as readers who enjoy historical fiction (and even a good mystery thrown in), I would not hesitate to recommend
The Biograph Girl
. It's the type of book that will keep you flipping the pages, guessing what will happen next and keep you up at night. A real winner.
The Biograph Girl
is available for purchase now at major booksellers, including
Amazon
. I am an Amazon affiliate. If you make a purchase through my link, I will receive a small commission.
FTC Disclosure: This book was borrowed from my local public library. I was neither compensated nor paid in any way for this review.
The real Florence Lawrence