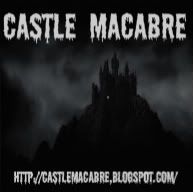 I am thrilled to announce that my friend Michelle has a new blog - - and a very timely one too! If you're a fan of the horror genre, you won't want to miss this. The new baby is
Castle Macabre
- - aren't you getting chills just from the name? Michelle will be reviewing horror, as well as paranormal/light horror.
Be sure and stop by
Castle Macabre
and get in the spirit for Halloween! Castle Macabre is currently hosting a blog launch giveaway and a fall read-a-thon. Don't wait to sign up!
You can check out Michelle's other blogs,
The True Book Addict
,
Historical Fiction Connection
, and
The Christmas Spirit
. She's a busy lady!